Samsung's Ongoing Commitment to Consumer Trends Makes It a Powerful Contender for Shaping the Metaverse
As it shifts its focus away from simply offering tangible products to utilizing its tech to enhance consumer experiences inside virtual worlds.
Samsung's Ongoing Commitment to Consumer Trends Makes It a Powerful Contender for Shaping the Metaverse
As it shifts its focus away from simply offering tangible products to utilizing its tech to enhance consumer experiences inside virtual worlds.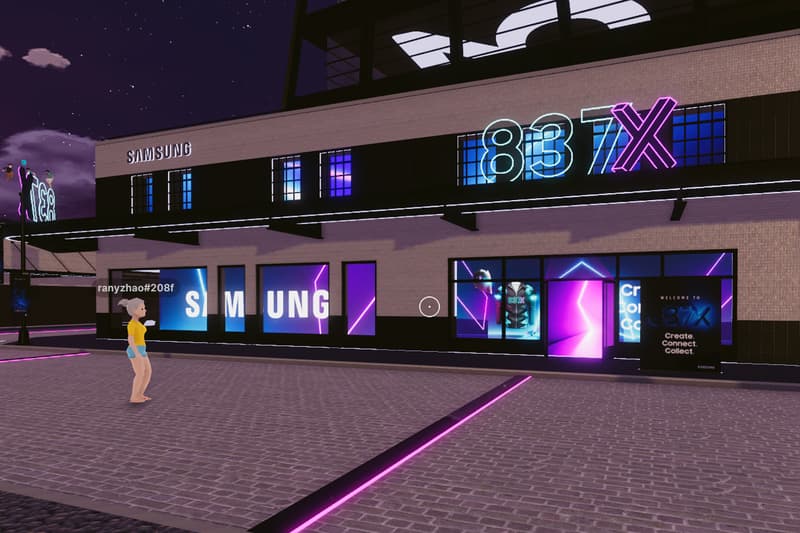 1 of 3
2 of 3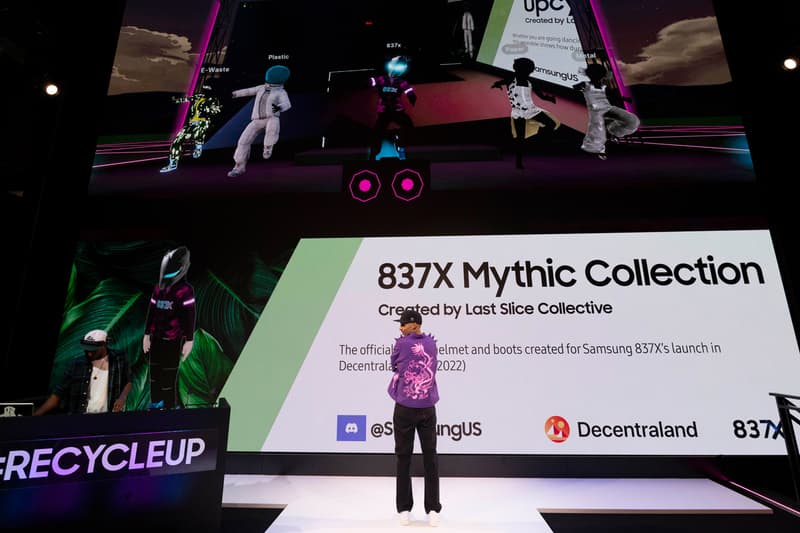 3 of 3
Samsung Electronics' recent debut of its "Tonight at the Rock" digital activation, in partnership with "The Tonight Show Starring Jimmy Fallon," should come at no surprise, given its legacy of embracing emerging tech in forward-thinking ways that may often come across as "weird" or premature.
While this isn't the first time Samsung and Fallon have worked together, this week's newly announced partnership does mark the first time "The Tonight Show," by and through late night television, has entered the metaverse through an online gaming experience — using the popular video game, Fortnite.
On September 20, the co-branded activation, provided Fallon fans and viewers with a virtual NYC landscape, which consisted of mini-games that enabled them to win Samsung power-ups. The underlying structure of the virtual experience was centered around a social adventure that leveraged Samsung's newest devices in a Web3 framework.
"Over the past few years, I've been lucky enough to partner with Samsung on almost any idea we can dream of," said Jimmy Fallon. "This time, I asked them if we could do something with Fortnite. They immediately said yes, and we've created a gaming experience that brings together fans of the Tonight Show and fans of Fortnite. I think it's a great fit because we all share the same mission which is to bring people from all over the world together to have fun."
The game is live! #TonightAtTheRock Powered by @SamsungMobileUS on @FortniteGame is here, play now #ad https://t.co/EO9oOcvQWd pic.twitter.com/I8cuceNbmL

— The Tonight Show (@FallonTonight) September 20, 2022
Through the Looking Glass
Ultimately, the electronic conglomerate's ongoing commitment to environmental sustainability and understanding consumer trends has made it a unique contender for enhancing consumers' personalized experiences inside the metaverse.
In 1938, the South Korea-based conglomerate began as a grocery store, trading and exporting goods produced in and around the city of Taegu. It served as one of the largest businesses in Korea, producing nearly one-fifth of the country's total exports with a primary focus on electronics, insurance, heavy industry, construction, and defense.
Indeed, Samsung has come a long way since selling dried Korean fish, vegetables, and noodles, as the tech conglomerate redeveloped its brand near the end of the Korean War. In 1960, Samsung chose industrialization and entered into the electronics industry, producing TVs, microwaves, and other consumer products.
Over the next decade, the company continued to expand into shipbuilding, petrochemicals, and aircraft engines — only to add color TVs, refrigerators, electric desk calculators, and air conditioners to its product line by the 1970s.
From 1980 into the 2000s, Samsung entered into the telecommunications hardware industry, building switchboards and telephone/fax systems. Eventually, it found itself in mobile phone manufacturing, where it has since acquired companies that developed technologies for electronic devices.
Its eye for embracing consumer behavior and trends has tastefully positioned Samsung in such a way that has allowed it to continue leading the stages of innovative development in consumer electronics, appliances, memory chips, and integrated systems.
And today, it's doing it again, actively seeking to become the next major player and force inside Web3 via the metaverse. Moving from its focus on tangible products to enhancing experiences, Samsung is now leveraging its extensive electronics pipeline to help shape the types of experiences consumers and brands can have inside the metaverse.
Hypemoon sat down with the Samsung team at the NYC-based event, discussing how the electronics company believes Web3 to be a natural move for its branding in its continued efforts in breaking barriers and experimenting with new technologies.
And for Samsung, it seems that the latest consumer trend involves leveraging the gaming and fashion sectors against the emerging world of the metaverse and virtual reality.
A recent study conducted by Razorfish found that 52% of Gen Z gamers felt more like themselves in the metaverse than in real life, demonstrating a need for legacy brands like Samsung to enter the digital space. Brian Brown, VP Senior Group Creative Director at Razor Fish, also told Hypemoon how Samsung has utilized the metaverse in building brand engagement with new customer demographics.
It's Not Official Until You Have a Discord
Samsung dove into Web3 during June, when the electronics company officially launched its Discord channel as a "fun, interactive way for fans, gamers, and creators to interact and get exclusive access to products, events, NFTs, and other Web3-based wonders."
Within the first 12 hours of launch, the Discord server garnered over 100,000 members.
Prior to then, Samsung first entered the metaverse in January after digitizing "Samsung 837"- the company's NYC office and venue space. The virtual plot, known as 837X, located inside Decentraland, invited users to explore the electronics company's dedication and commitment to leveraging new technology in creating immersive, engaging experiences.
837X also aims to push Samsung's ongoing commitment to repurposing technology and embracing product and environmental sustainability.
In February 2022, Samsung hosted a launch party at 837X for its new Galaxy S22 device in the metaverse – despite receiving mix-reviews due to technical difficulties, the event is recognized as one of Decentraland's most visited destinations to date with over 100,000 online attendees.
Forget the Desktop: Say Hello to NFT TV
That same month, Samsung welcomed over 1 million users to its "Galaxy Superstar" event inside Roblox, featuring a live music concert headlined by pop icon, Charli XCX, offering users the chance to earn "Star Power" that unlocked exclusive gear.
During NFT.NYC 2022, Samsung also made its presence known, after debuting the first Smart TV NFT platform, in partnership with Nifty Gateway. Rather than a consumer needing a desktop computer, Samsung's new TV connects to the NFT marketplace allowing users to browse, buy, and sell art — directly from their television.
The expansion of Samsung's TV product line has proven its ability to predict trends and stay current as NFT TVs have grown over 390% in interest over the past year.
Dressing Up the Metaverse with Climate Week and #RecycleUp
In September, it shifted its focus on consumer fashion trends, premiering its #RecycleUp Fashion Show, in celebration of this year's Climate Week. The IRL show took place inside its 837 flagship office, as well as inside 837X.
The Fashion Show marked Decentraland's first simul-verse live-streamed experience for consumers.
In partnership with Last Slice Collective, Samsung helped bring sustainable fashion designers' pieces to life on the runway, including a digitized version of Gabrielle Mendoze's stylish dress made from book pages, as well as Andrew Burgess's 837X branded jacket.
This week, Samsung also utilized its 837X virtual plot to introduce its consumer base to the "Climate Week Quest at 837X" — a new campaign for Samsung enthusiasts to explore the Sustainability Forest and complete missions to attain #RecycleUp wearables and NFT prizes.
You saw the #RecycleUp wearables on the runway, now you'll have a chance to win them. From September 20th – 24th we're releasing clues here on Twitter. Crack them, then go to #837X in @Decentraland for a chance to win. Questions? Head to our Discord. https://t.co/6XubNDNPMH pic.twitter.com/IqXZ3dlUSo

— Samsung US (@SamsungUS) September 21, 2022
A New Samsung?
Samsung's 53-year track record of understanding consumer behavior and technological trends has undoubtedly allowed the electronics giant to tastefully enter into Web3 without an eye-roll, continuing to leverage its existing and new tech-forward thinking alongside its long-term commitment to environmental sustainability to further enhance consumer's experience inside the metaverse.
In other metaverse news, Global AR fashion platform ZERO10's debuts new vision for digital fashion in NYC pop-up.