A.R. Rahman Says "We Must All Rise Up" As Creators, Launches 'Katraar' Metaverse Music Platform
With a vision that he says will "change the world" in how we think about music, art, and storytelling.
A.R. Rahman Says "We Must All Rise Up" As Creators, Launches 'Katraar' Metaverse Music Platform
With a vision that he says will "change the world" in how we think about music, art, and storytelling.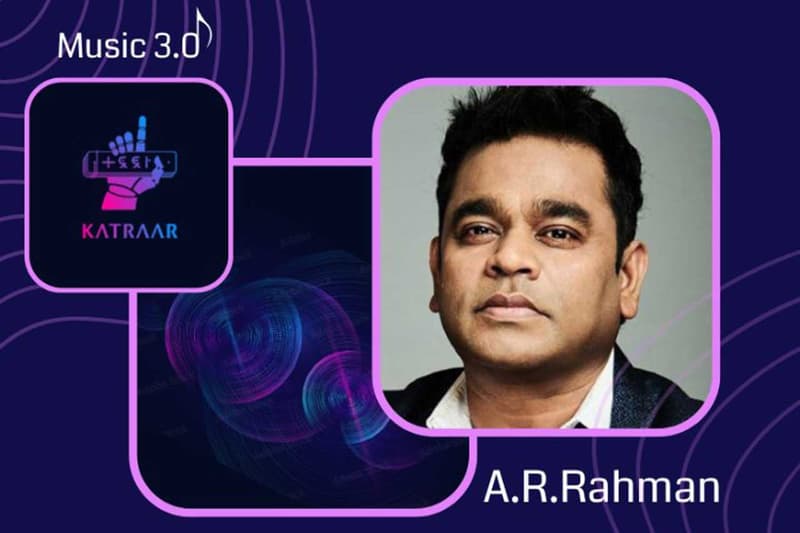 Acclaimed music composer and India's favorite A.R. Rahman has been hinting for some time at his eventual participation in the emerging tech and Web3 space, dropping some pretty exciting news for fans last week. 
Rahman, an Oscar, BAFTA, Golden Globe, and Grammy winner for "Slumdog Millionaire," has infiltrated music culture from every direction, promoting the next stage in our musical evolution as being one that is more in tune with us creating our own stories – not having someone else do it for us. 
In November, Rahman participated in a heavyweight panel on virtual reality at the International Film Festival of India in Goa, led by filmmaker Shekhar Kapur, alongside Dreamscape Immersive co-founder and CSO Ronald Menzel and Pranav Mistry, the former president and CEO of Samsung Technology. 
Rahman, whose VR project "Le Musk" premiered at Cannes earlier last year, was asked by Kapur if he thinks he could ever be replaced by artificial intelligence (A.I.):
"I am the AI," Rahman said, referencing the technology's vast learning capabilities. "What VR is doing is taking me on a journey outside myself. When I watched a film like '2001: A Space Odyssey,' I watched it 18 times – it's so beautiful. Because each time I am in a different stage of my life and each time it is taking me on a journey somewhere else. So great movies, great compositions that we hear again and again, are doing something to us that is more than just listening to music. It is taking us on what we call a completely virtual journey," he said.
And that technology, according to Rahman, is attempting to create virtual journeys that aim to replace our senses. 
However, Menzel addressed the importance of preserving human creativity:
"Let's use technology to do things that we cannot do in the real world. We have technology that allows us to understand what our brain is doing in real time. The movies we're going to watch are going to be evolving, depending on your real reaction and state of mind. And maybe you are also part of the creation of the movie you are watching," he added.
Rahman says that when it comes to addressing the negative effects of modern day technology, we need to have a "very strong foundation:"
"…a foundation of culture, the foundation of human rights, where children and women are not exploited. That's why we all must rise up as creators and not let someone else do it – that's the reason I jumped into virtual reality."
And to start off 2023 (as well as his 56th birthday), Rahman announced via Twitter the launch of his new metaverse music platform, Katraar, a digital platform for up-and-coming musicians and artists.
I'm excited to announce today – KATRAAR, the #metaverse platform currently in development, is one step closer to launching. And I look forward to sharing this journey with you all.

➡️ https://t.co/1XP04zo0Lr@HBAR_foundation @MyQyuki #NFTs #Web3 pic.twitter.com/Un0fGSzxdl

— A.R.Rahman (@arrahman) January 6, 2023
The word 'Katraar,' in Tamil, as Rahman described in his announcement video, refers to a "group of learned people who can change the world."
"Katraar is also tradition. Katraar has wisdom. Katraar has a future. Katraar has a vision," he continued.
In partnership with the nonprofit HBAR Foundation and its native Hedera Network, Katraar will eventually integrate NFTs into its platform that Rahman describes as "rare and unique in music, art, and storytelling."
According to its website, Katraar's initial phase of development includes building an active community of music lovers, which will bring the platform into Phase 2 – creating a long-term sustainable revenue model for new talent through digital assets. 
Phase 3, as briefly described, hints at a future metaverse that will enable creators to virtually collaborate to co-create art across the globe.
Rahman has currently invited users on Twitter to sign up to the platform. 
In other news, McDonald's celebrates the Lunar Year with metaverse entrance.