AI Art Takes the Stage at the 2023 GRAMMY Awards
Refik Anadol's AI-generated art set the stage during this years 2023 Grammy Award Ceremony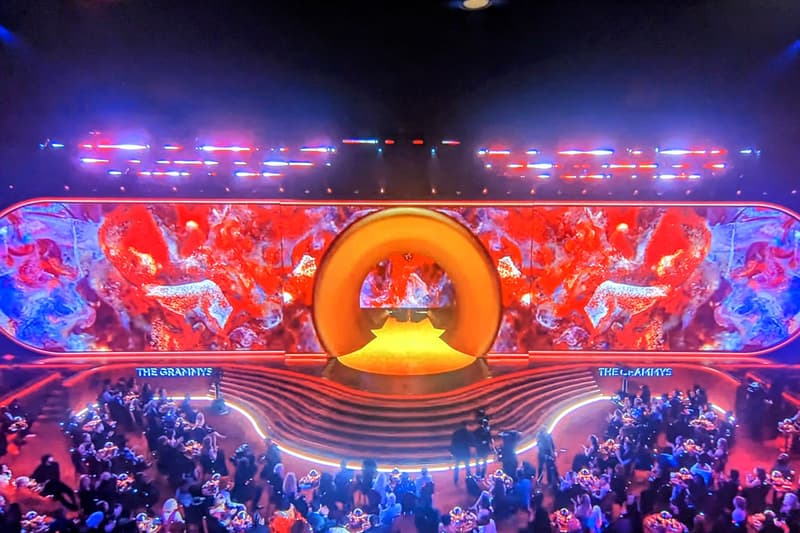 The 65th GRAMMY Awards kicked off in grand style this past weekend, with the star-studded event taking place in the Crypto.com Arena in Los Angeles. Hosted by three-time host Trevor Noah, the prestigious ceremony saw some of the most talented stars of the music industry come together to honor the best in music. From heartfelt performances to emotional acceptance speeches, the night was filled with unforgettable moments that will be remembered for years to come.
Although throughout the excitement, digital art enthusiasts may have been astounded when a new phenomenon was spotted during the ceremony: a real-time artificial intelligence artwork was displayed on the screens behind the stage. A of trippy and abstract images ushered in a new era of art technology and ushered in a wave of awe among viewers.
Refik Anadol is an internationally renowned media artist and director whose work explores the changes and possibilities of machine intelligence in our everyday lives. His innovative approaches to data narratives have pushed the boundaries of post-digital architecture, allowing him to create captivating, immersive environments that redefine the functionalities of architectural elements. 
A pioneer in digital art and crypto collectibles, minting the first fully immersive digital artwork NFT in September 2021 and selling his AI art pieces at Sotheby's, Anadol invites us to imagine alternative realities and experience the beauty of the data-driven age. 
"This is the first time an AI artwork and the first artwork from an NFT collection has been used for a Grammy broadcast." Anadol shared with Hypemoon.
Dear friends, this year we collaborated with Grammys and shared our Machine Hallucinations — Space and Nature series during the ceremony! Deeply grateful for the Recording Academy for selecting our AI Data Paintings for this historic moment! pic.twitter.com/uTFlZO3KNA

— Refik Anadol (@refikanadol) February 6, 2023

Anadol Studio's works featured during the Grammy Awards were taken from two collections: Machine Hallucinations: Space Metaverse and Machine Hallucinations: Nature Dreams. The Machine Hallucinations: Space Metaverse collection specifically featured 'Machine Hallucinations: Galaxy Infinite AI Data', an artwork available for purchase through Sotheby's.
The piece is a visual representation of the infinite possibilities of artificial intelligence and how this technology can be used to explore the universe. It features nebulas, galaxies, and stars, artfully composed with a mesmerizing array of colors and textures. The collection reflects AI's power and potential, allowing us to explore our universe and expand our understanding of the unknown.
 The combination of music technology, visuals, and AI can create a feeling of awe and wonder. It is a testament to the power of creativity and the potential of artificial intelligence in the realm of entertainment. With the steady growth in AI Art popularity in recent years, it's not surprising that it has now made its way to the 2023 Grammy Awards ceremony, viewed by over 12 million people; this opens the door to wider adoption and exposure of AI and NFT art worldwide.
In other web3 new, Art Heist Brings New Life to Dead Painters Through Science and NFTs