Could We See Live Sports Take Over the "Geospatial Web?"
Saul Garlick sat down with Hypemoon to talk about Fabric, a geospatial web platform that recently announced its $4 million USD raise.
Could We See Live Sports Take Over the "Geospatial Web?"
Saul Garlick sat down with Hypemoon to talk about Fabric, a geospatial web platform that recently announced its $4 million USD raise.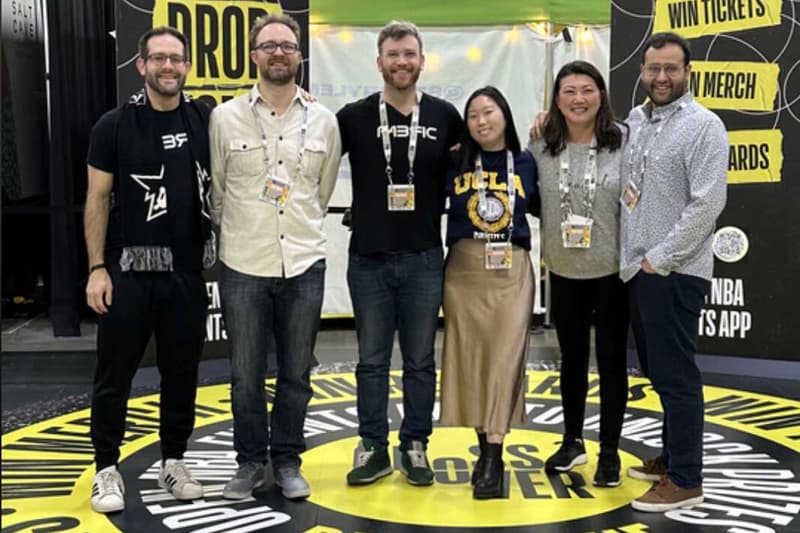 Saul Garlick, the founder of geospatial web platform, Fabric, has spent the last five years developing the platform and pioneering what he believes to be the "beginning of the geospatial web."
While the concept of the geospatial web is hardly new, it is something that has been left relatively unexplored – at least creatively. 
The Geospatial Web (GSW) is a location-dependent real-time layer of immersive, entertaining, and useful technology overlaid upon both our individual and collective daily realities. It's available to everyone with access to the internet through a web browser or an app – syncing time, place, and functionality to create a whole new layer on earth. 
As a sort of "real estate" or a predetermined radius or location, it's only available to people if they're within that "real estate" or location at the right time.
Fabric, which launched in 2018, announced in September that it raised $4 million USD, including a $1.9 million USD seed round. It also rolled out some of its tech at NBA Summer League, with it also making an appearance during the NBA exhibition games between the Atlanta Hawks and Milwaukee Bucks in Abu Dhabi. 
Now, it's important to distinguish between a GSW platform like Fabric and the metaverse as we currently understand it.
Fabric's technology is designed to encourage users to look into the space around them, rather than down at their phones, joining others where they are in real-time for location-specific experiences. 
Think about having an interactive "jumbotron" in your pocket, which is where Fabric comes in to help deliver these experiences known as "Fabs" that are essentially an individual AR-based asset that can be viewed through a users' phone. 
These Fabs allow fans to engage in a range of entertaining activities that elevate their fan experience – whether they are at a stadium or at a live experience. Each Fab presents fans with the opportunity to interact, and when a user completes a specific interaction (trivia game, scratch-off cards, etc.), it registers as a Completed User Fab (CUF). 
"The metaverse, on the other hand, focuses on experiences that happen on your own – e.g. in your bedroom – in a shared environment," Garlick told Hypemoon. "This is all about giving people the experience of 'presence' or feeling close to others, even though they are miles away."
While everyone has a different definition for the Metaverse – a term that was initially coined by Snow Crash author Neal Stephenson in 1992 – all of the definitions essentially lean toward virtual reality and people having what Meta CEO Mark Zuckerberg calls "presence." 
This "presence" is more of an isolated experience, where a user is able to experience a digital world by themselves, without having to be around others. 
However, Garlick says that there is a difference between digital co-existence and physical co-existence, which is where the GSW comes in. 
"The geospatial web is for people to share experiences when they come together. Millions of people attend live events, theme parks, malls and retail stores every day, but there is no digital medium for creating a shared in-person experience. It becomes difficult to even speak to strangers! The GSW puts digital back into the role of tool to serve our common humanity, making these events and experiences a genuine opportunity to connect with those actually around us."
Fabric takes the point of view that people's attention should be on the experience of "real life." 
"People shouldn't work for technology, which is why Fabric is the exact opposite of what the metaverse proposes to do. We believe technology should bring people closer together in a live experience with digital tools that enhance that experience," Garlic emphasized.
So, what are we missing when it comes to curating the most optimum live event experience?
Garlick touches on the fact that no matter how well-produced an event may be, nothing can really replace the feeling of sharing that experience with another person or group of people. 
"Live events have been optimized to keep our eyeballs on the production value, but not the human interactions that actually guarantee that we never forget the experience. There is such an incredible opportunity to bring people not just together in the same place, but to connect people through shared experiences and create memories and relationships that last for years," he added.
The Fabric founder is also a major sports fan, as his family had season tickets to the Denver Broncos since he was five years old. He says that the opportunity to work with sports presents many benefits, including the ability to build a unique community of fans by bringing them into the GSW. 
He presented the following scenario of how GSW would work in a traditional sporting event:
"You've purchased tickets to an NBA basketball game and you've been told that the entire experience will be enhanced by a digital layer that lives in the physical space. To get the best experience, you're told to show up 15 minutes before tipoff. 

You don't yet know what that means, but you can't wait to get to the stadium to learn more. 

When you arrive at the game, you're prompted to open the Team's "Space" through a QR code that takes you to your mobile browser and opens a URL. Immediately, hovering in what looks like a camera view through your mobile browser, you see AR Fabs, digital assets in space around you. 

Each Fab that you come upon unlocks new opportunities, like a chance to win prizes, an invitation to meet other fans at a mini-party in the stadium, get great deals on merch and concessions and a chance to earn exclusive access to your favorite players. 

After interacting with a few Fabs, earning points and unlocking prizes along the way, you see your favorite player in 3D welcoming you to join a premier limited-access experience. The player gives you insider tips on the team and ways to enjoy the game, but it also answers any questions about the team and its history. 

You can even join a debate with other fans and this 3D player about great moments in the history of the sport. While seeing opportunities enlivens the spirit and you want to continue to unlock new opportunities, you start to notice that other people who are in the space with you (from their phones, but also at the event) are sharing thoughts, how many points they've earned and even what experiences they've participated in. 

Everywhere you look, you realize you are in this with others. You are invited to join a "Squad" with several others nearby and compete to earn multiple times more points for collaborating and doing things together. You opt-in and now you are on the path to greatness!"
Garlick says that he and his team are still working on developing new ways to bring human connection to in-person experiences, as well as bringing in other technology partners to help expand Fabric's mission. 
In other news, NASA leverages A.I. for advanced hardware designs.