Bloomberg Green Drove Environmental Sustainability Forward with Kal Penn, Maya Penn, and Steve Hornyak at SXSW
With a beautifully moderated panel by Bloomberg Green's Shartia Brantley that spoke on big tech's history of greenwashing, crypto mining and e-waste, and how each of us can realistically get involved in our environmental activism.
Bloomberg Green Drove Environmental Sustainability Forward with Kal Penn, Maya Penn, and Steve Hornyak at SXSW
With a beautifully moderated panel by Bloomberg Green's Shartia Brantley that spoke on big tech's history of greenwashing, crypto mining and e-waste, and how each of us can realistically get involved in our environmental activism.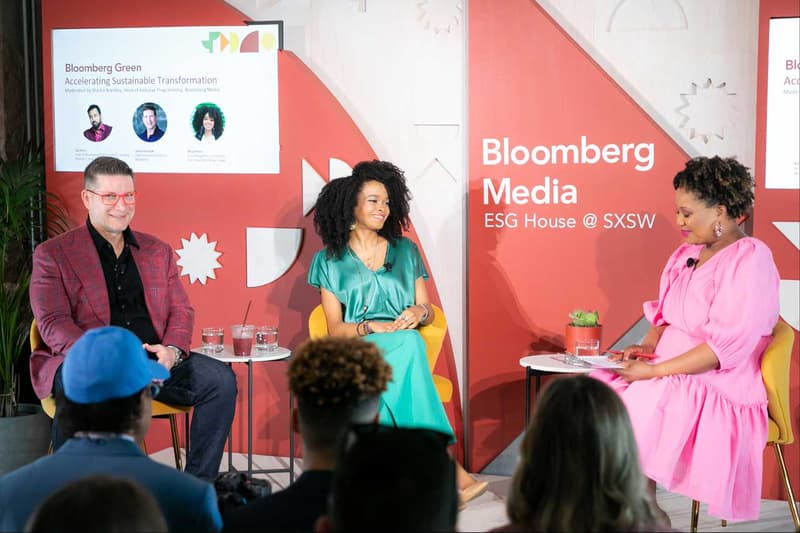 1 of 2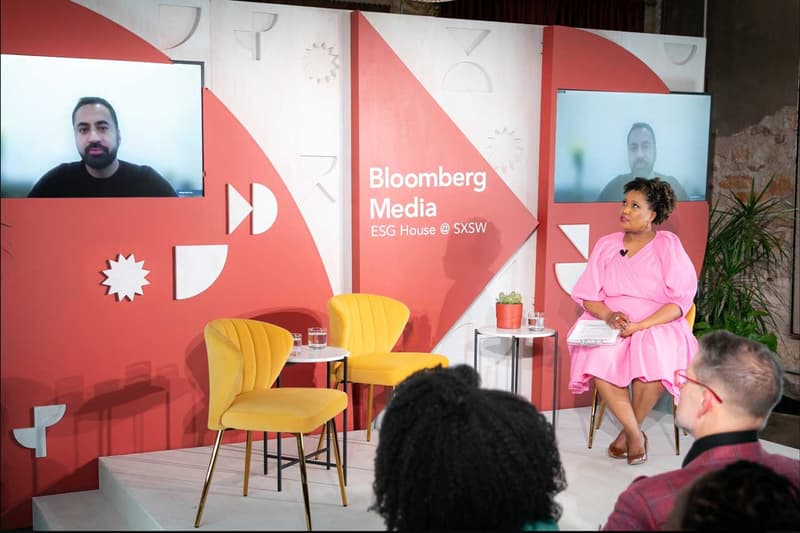 2 of 2
This year's South-by-Southwest (SXSW) in Austin, Texas flexed its super-sized music/tech culture conference like never before, bringing in a wave of impactful visionaries and creatives to the Lone Star State that ran from March 10 to 19. 
Even with the recent collapse of Silicon Valley Bank (SVB) and the ongoing federal investigation into FTX and its disgraced founder, Sam Bankman-Fried, SXSW carried on without an overwhelming departure to the NFT and cryptocurrency realms. 
The 36-year ongoing culture-music festival, instead, chose to focus its attention on environmental sustainability, artificial intelligence (A.I.), and the next-generation of music artists that are incorporating new technologies into their NIL (name, image, likeness). 
One of the highlights of this year's SXSW was an incredibly well-thought out day of panels put on by Bloomberg's newly established editorial division of climate news and clean-energy journalism – Bloomberg Green.
Bloomberg Green, which launched in January 2020, is a multi-platform editorial brand that draws upon Bloomberg's global newsroom of 2,700 journalists and analysts across 120 countries, focusing on the business, science, and technology of climate change. 
It also produces original content for its stand-alone website, print magazine, a daily email newsletter, a weekly TV show, a radio segment, original video and podcasts, as well as a series of signature events such as his year's ESG House by Bloomberg Media, which ran from March 10-12.
Hypemoon attended the first session at Bloomberg Green's ESG House, called  "Accelerating Sustainable Transformation," which produced a highly-intuitive, thought-provoking panel, moderated by Bloomberg's Head of Inclusive Programming, Shartia Brantley.
Do We as Consumers Already Subscribe to Big Tech's Greenwashing?
'Greenwashing,' or the exaggeration of a company's environmental credentials, is an unfortunate marketing tactic designed to dress up a company's environmental footprint, when in reality, it is communicating misleading information about how its products and/or services are positively impacting the environment. 
Hotel Greenwashing in the 1960's
One of the earliest cases of greenwashing dates back to the 1960s, when the hotel industry began placing notices in hotel rooms asking guests to reuse their towels to save the environment – in reality, the hotels took advantage of lower laundry costs (and not to mention poor hygiene practices!)
A 2015 study by Washington State University researchers titled "Consequences of Greenwashing: Consumers' Reactions to Hotels' Green Initiatives," investigated the consequences of greenwashing in the lodging industry, surveying over 3,000 consumers to see whether recognizing a hotel's hidden motive of profit caused them to be skeptical about the hotel's environmental claims. The study revealed that a majority of travelers were willing to boycott a company if misled.
"Getting Warmer" with Kal Penn
Today, we have started to see greenwashing's latest target – energy consumption, which plays a big role in cryptocurrency mining. 
Kicking off the panel was renowned actor and environmentalist, Kal Penn, who spoke live via Zoom to Brantley and ESH House attendees about today's greenwashing behavior specifically with crypto mining rigs, in addition to how we can leverage our consumer relationships with big tech to get more actively involved. 
With cheap power and loose regulation, Texas has become a magnet for Bitcoin miners. But can the state meet their explosive electricity demands? @KalPenn traveled to the Permian Basin to join the hunt for sustainable crypto https://t.co/QYmcQG7fD0

Presented by @GM pic.twitter.com/cMMBJVjgJF

— Bloomberg Green (@climate) March 15, 2023
Penn, a former policy aide to President Barack Obama, teased his newest project, "Getting Warmer," a new Bloomberg Original Series he hosts, which first premiered on February 1 of this year. 
Already seven episodes deep, "Getting Warmer" follows Penn as he travels the country looking at businesses, initiatives, researchers, and communities transitioning to clean energy, exploring the critical topics connected to climate change. 
The new Original Series adds a fun, comedic spin on the overall climate change debate that removes the dry, dull, and often intimidating conversations that act as a barrier to the average person looking to take on a more active role in environmental sustainability.
"You obviously came to the ESG House today because you care about these types of issues. I wish I was [there in person with you], because I think one of the most enjoyable parts about this is the interactive piece – getting to know people who already have pitched us if we had the chance to do a second season, you know, what are the next steps?
Episodes 6 and 7 of "Getting Warmer" dropped on March 8 and 15, respectively, and are available to stream on Apple TV, Roku, Android TV, FireTV, and Samsung TV.
If you're just dipping your toes into crypto, the past two years have seen a sharp rise in the crypto mining industry, with many arguing that its highly intensive use of energy and electricity has created greater harm than good for the general public. 
Just days prior to the start of SXSW, Senator Ed Markey (D-Mass.) chaired a session of the Committee on Environment and Public Works, which focuses on the energy usage of mining. 
Sen. Markey is one of the sponsors to a new bill that would require companies to disclose more information about their mining operations to the environmental regulator, as little information is known about the full extent of miners' impact on the environment. 
Right now, we are starting to see a shift in thinking from crypto miners, who are actively working to remake the perception of industry profitability surrounding high energy consumption and heavy emissions to an altruistic conversation focused on climate conservation.
Naturally, crypto mining continues to face growing scrutiny about its climate impacts, which as a result of the proof-of-work (PoW) mechanism it has utilized, requires high levels of energy consumption by computers that are needed to solve thousands of equations as quickly as possible to solve the correct sequence to earn their Bitcoin. 
In his concluding remarks to ESG House attendees, Penn said that there is synergy between a startup with energy that is for crypto mining versus an established, multinational company that both are working on those things. 
"Of course, not all startups are going to succeed, but the idea that we're investing so much, so quickly, and are already seeing results – both in profitability and in terms of a positive solution for the climate – are two things that I can certainly get behind," Penn emphasized.
President Biden's Executive Order on Digital Assets
Last March, U.S. President Joe Biden signed Executive Order 14067: "Ensuring Responsible Development of Digital Assets," which was drafted in alignment with our climate change objectives. 
The 2022 Biden administration report specifically directed the White House Office of Science and Technology Policy (OSTP), and its partners from the Executive Office of the President and across federal agencies, to examine the connections between distributed ledger technologies (DLT) and energy transitions, the potential for these technologies to impede or advance efforts to tackle climate change at home and abroad, and the impacts these technologies have on the environment. 
The report revealed that the industry consumed about 1% of the electricity used in the country, which produced between 25 million and 50 million metric tons of carbon dioxide annually. 
The Report also revealed that crypto mining has been responsible for e-waste output equivalent to that produced by the entire nation of the Netherlands.
Ultimately, the Clean Air Act, which serves as the primary U.S. federal law on air quality control, is just one piece of the puzzle, which is why we have seen such aggressive pressure from many Democratic lawmakers, including Senators Elizabeth Warren (D-MA), Sheldon Whitehouse (D-RI), Ed Markey (D-MA), Jeff Merkley (D-OR), Dick Durbin (D-IL), and Representatives Jared Huffman (D-CA), Katie Porter (D-CA), and Rashida Tlaib (D-MI).
"You Don't Need to Have Proximity to Shop Sustainably"
Brantley turned next to 23-year-old activist and actress, Maya Penn, whose work in environmental education and sustainability is its own book worth reading.
At just eight years old, Penn was already learning to build and take computers apart, having founded the global sustainable brand Maya's Ideas. She then launched Maya's Ideas 4 the Planet just three years later. 
By age 16, Penn received a commendation from President Barack Obama for outstanding achievement in environmental stewardship, who previously made history when she was commissioned to create an animated film for the opening of the first-ever digital report presented to U.S. Congress. 
"I think what really motivates me and being Gen-Z, I know, is a mystery to a lot of people, because we have so much access to information from a very young age, especially when it comes to industries and their impact on the environment and on people," Penn said to ESG House attendees. 
Penn says that she feels that a lot of people hold off from taking a more active role in these conversations because of the potential backlash that comes from taking such a position. 
"It's really important to recognize that there are so many consumers who are not as educated on these issues and sustainability isn't really on their radar – they just want a great quality product," Penn said. 
She also cautioned against using "buzzwords and keywords" or looking for "what will be the most convincing thing to tell people" when building out a brand's messaging. 
"I think it's more important to figure out how you can uniquely interweave your brand's personality and your team's expertise to zero in on that authentic voice and message," she emphasized. 

"At the same time, I know a lot of Gen-Z sustainability practices aren't all there, and that's for a number of different reasons. And sometimes there's still this idea that you have to have proximity to affluence in order to shop sustainably. What really makes me excites is when the companies are excited, when you have teams of people who are really authentically entrenched in the space and in the movement in some way – you're not just approaching it as only a business opportunity, but also seeing how you can genuinely create a legacy with your company that will last," she continued.
During SXSW, Penn made her directorial debut as she revealed the trailer and cast for the upcoming short film, "Asali: Power of the Pollinators," starring Whoopi Goldberg, Monique Coleman ("High School Musical"), Ronen Rubinstein ("9-1-1 Lone Star"), Joy Ofodu (Mighty Express) and activist Lupita Pineda. 
We're thrilled to be partnering with this brilliant, talented young mind @mayasideas on her @AsaliMovie! ?❤ https://t.co/VdF3BTqBvG

— Viola Davis (@violadavis) October 19, 2022
The animated action-adventure short film follows honey bee Asali after she meets a group of pollinators and a human environmental scientist, where the unlikely group slowly saves Asali, her family, and their home from a deadly monstrous force.
Viola David and Julia Tennon also serve as the short film's executive producers. 
"Don't chase the source, don't chase the trends. Figure out how you can use it, and open source and share the innovations that you have on R&D and around how to make your products more sustainable – I think we need to collaborate more, and that's something that I don't see enough of," she concluded.
Moving Product in Highly Congested Areas to Reducing Traffic Congestion, Crashes, and Emissions
Steve Hornyak, CCO at BrightDrop, spoke to an even bigger consumer need – bringing to market a broad spectrum of products that meets the needs of everyone, not just the elite and those that can afford expensive vehicles.
Launched in 2021, BrightDrop is a separate, wholly-owned subsidiary of General Motors, that serves as GM's new commercial electric delivery-vehicle business. 
Through BrightDrop, GM offers a new greenfield ecosystem of electric first-to-last-mile products, software and services to empower delivery and logistics companies to move goods more efficiently. 
By 2025, GM estimates that the combined market opportunity for parcel, food delivery and reverse logistics in the U.S. will be over $850 billion USD, while urban last-mile delivery, thanks to e-commerce, is expected to grow by 78 percent by 2030, according to the World Economic Forum.
In its efforts of rethinking that "last mile" journey of delivering packages and services, Hornyak says that BrightDrop's incubation with GM allows it to embody what GM is doing with triple zero zero – zero emissions, zero crashes, and zero congestion. 
Both BrightDrop and Hummer, according to Hornyak, were the first two products to be brought to the market on GM's new electrolyte platform.
Turning to 'zero crashes,' Hornyak said that today's vehicles that people drive around, haven't changed in years.
"They aren't built from a safety or comfort perspective, they're built from a cost and utilitarian perspective. We've actually taken all of the advanced active and passive safety capabilities that GM is putting in all the luxury vehicles and watches – and put them into commercial electrolyte commercial vehicles for the first time. That protects the passengers and other people on the road, while adding some additional comfort to it as well."
On the congestion side, Hornyak referenced TRACE, BrightDrop's micro-mobility product moving platform (and is also 'e-cart' spelled backwards). 
"What [TRACE] allows you to do is take not just the last mile, but the last 100 yards and actually move product in highly congested areas. And what we've found in our initial tests in congested areas, is that we've actually reduced idle time at the curb by up to 50 percent," he explained.

"If you reduce the idle time at the curb, you're reducing any emissions, while also reducing congestion. Our whole goal is to reduce the congestion and actually remove and have fewer vehicles on the road by bifurcating that process and product delivery between the last mile and the last 100 yards."
In other SXSW 2023 news, read about streetwear brand DRx positioning its customers as the primary, customized storefront that straddles the line between traditional commerce and Web3.