Streetwear Brand DRx Drops Latest Collection at SXSW 2023; Talks New Revenue Model That Turns Its Holders Into a 'Custom Storefront'
Turning OpenSea effectively into an "Amazon-like" marketplace that straddles the line between traditional commerce and Web3.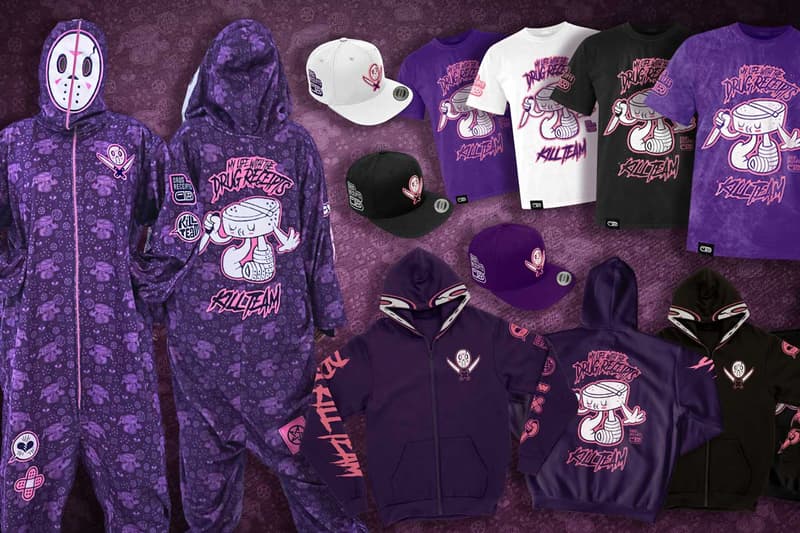 1 of 2
2 of 2
Drug Receipts or DRx, is a global streetwear brand that is pushing to revolutionize the traditional model we've seen for digital and physical custom-made clothing.
Built upon the pillars of art, subversion, science, community, and sport – DRx's primary focus is to position its DRx and Walker World holders front-and-center, serving as the catalog for holders to create their own store front of customized DRx merchandise,
And don't expect to find these coveted collections post-mint in its online store, because you won't find it.
"This is one of the ways that we deliver value for our holders…we move all of the action to the secondary market. Our holders become our storefronts and they set the market," says DRx co-founder and artist Arlo Eisenberg.
Launched at SXSW 2022, DRx is the brainchild of artist Eisenberg, Non-Fungible Labs co-founder Brooke Howard-Smith, and photographer Tyler Shields, who have collaborated to create the first streetwear brand that integrates mind altering apparel with augmented reality, Web3, and IRL fashion. 
However, DRx's inception story dates back thirty years ago, when Eisenberg and Howard-Smith were professional rollerbladers. Having toured the world and competed in the X Games, they collaborated on a brand called "Senate" – an action sports/streetwear brand that also made accessories for stunt skating. 
"Brooke first approached me about the idea of collaborating on an NFT and art-focused project around September 2021. When the opportunity came up to work together again and to once again take a leadership role in an exciting new industry we couldn't resist," Eisenberg told Hypemoon.
The now sold-out 10,000 NFT collection consists of programmatically generated avatars built around four base characters – Cap, Rex, Syrin, and Tabbi. 
During SXSW 2023 in Austin, Texas, DRx announced its newest collection with its partner, Walker World – a series of full-body, game-rigged 3D avatars ready for interoperable gameplay in the metaverse. 
KILL TRAM STABBI COLLECTION — EVERYTHING YOU NEED TO KNOW! ?

Our upcoming collection marks a futuristic collaboration with @walkerworld_.

From the origin of 'Kill Team' to mint dates and times, read EVERYTHING in this handy guide: https://t.co/AcHwlKMFKQ

— DRx (@DrugReceipts) March 11, 2023
The Kill Team "Stabbi" Capsule Collection, which will be available to mint on March 16, includes limited-edition digital wearables and physical claims: a Kill Team DRx hoodie, t-shirt and baseball hat – all with AR-based features.
Unique to this mint is a first-ever opportunity for OpenSea to also capture the sizing information for t-shirts, hoodies, and onesies. 
According to DRx's CMO, Trevor Topfer, they are effectively turning OpenSea into Amazon. 
"As people go through the minting process, they're selecting the size and color variations for our products, effectively determining rarity. We wrap that data into the metadata of the individual digital asset, including the 'unclaimed' status, representing a guaranteed claimable physical item, fulfilled by DRx," he explained to Hypemoon.
He continued that "once an item is claimed, [DRx] pushes a metadata update to reflect that on OpenSea. 
"This turns our OpenSea account into a clothing store where shoppers can filter through DRx products by type, size, and color – finding the item they're looking for and purchasing it directly from its holder," he added.
Topfer says that even once the physical item has been claimed, the asset continues to be traded on the secondary market as an interoperable digital wearable across the open metaverse.
This new mechanism allows for OpenSea to become more than just an NFT marketplace, but a place for both digital assets and physical products that enables brands to leverage crypto and smart contracts to protect customers – all while turning their superfans into their vendors, making them the beneficiary of changes in market conditions, right down to the individual products.
The collection includes an extremely rare Kill Team onesie (only 1 in 10 holders will receive it) with embroidered patchwork that is inspired by the empowered and dynamic Walker World Females collection of characters, where DRx owners will be able to see their art transformed into IRL merchandise. 
Eisenberg also told Hypemoon that his art has always been as much about the message and aesthetic presentation.
"I've spent years cultivating a signature style, but I've also been building a catalog of themes and iconography that recur frequently in my work – broken hearts, casts, crutches, bandaids, knives, broken halos, and one sock!"
Potential buyers will have 24 hours to mint the Kill Team Stabbi Capsule Collection, which consists of a total of 675 Purple Capsules and 75 Rare Stabbi Pattern Capsules. Each capsule will include interoperable digital wearables of the t-shirt, hat, and hoodie – in addition to a DRx prescription to claim the made-to-order customized physical apparel versions of each item.
"Making our superfans (holders) our storefront addresses a few issues with the traditional fashion/streetwear model – thanks to smart contracts and the minting process, everything is produced via a pre-sale model so we know exactly what is needed to be manufactured, reducing the need to hold stock or waste revenue on unnecessary products," Topfer said.
The pre-sale or mint process, according to the DRx CMO, delivers a scalable and predictable revenue model to the business. "After the mint, our role moves to fulfillment and customer support, and we continue to automatically draw revenue from every product sold on the secondary market."
At the end of the day, DRx wants to re-invest in its earliest holders, hoping that they are motivated to find buyers and introduce them to the brand since they receive direct value from being in control of the product supply. 
"For us, Web3 culture is about empowering our superfans. They invested in DRx  early on and our goal is to deliver value to them first. We want the success of our brand to be shared with them."
In other news, Tommy Hilfiger says the metaverse and digital offerings are key components of the brand's future.