Florida Governor Proposes Ban on CBDCs
Ron DeSantis states that "Big Brother's Digital Dollar" could lead to overreach and financial surveillance of residents.
Florida Governor Proposes Ban on CBDCs
Ron DeSantis states that "Big Brother's Digital Dollar" could lead to overreach and financial surveillance of residents.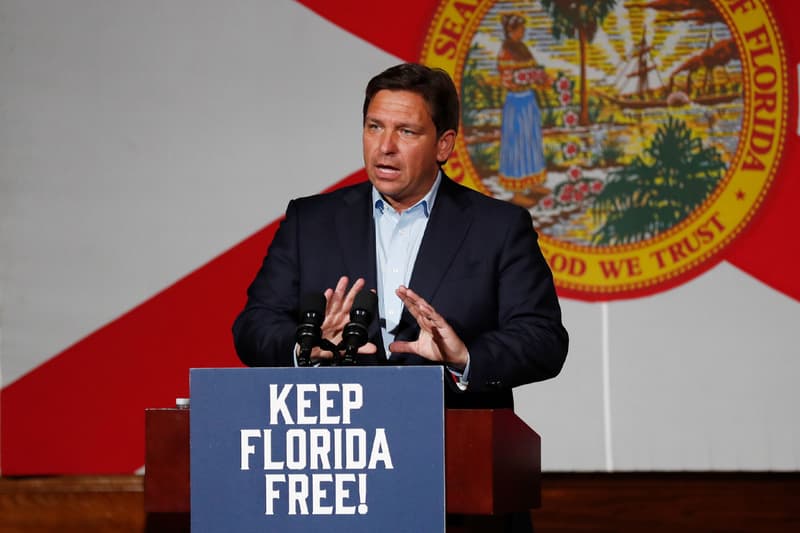 Standing behind a podium with a sign reading "Big Brother's Digital Dollar" on it, Florida Governor Ron DeSantis proposed the ban of Central Bank Digital Currencies (CBDCs) in the sunshine state.
The governor cited risk to financial privacy and freedom as his main concerns surrounding the technology, stating "what [a] central bank digital currency is all about is surveilling Americans and controlling Americans."
He added, "you're opening up a major can of worms, and you're handing a central bank huge, huge amounts of power, and they will use that power."
No CBDC in Florida https://t.co/p9pwSTmrlN

— Ron DeSantis (@GovRonDeSantis) March 20, 2023
The proposed legislation would outlaw the use of any CBDCs created by the U.S. Federal Reserve or foreign governments. During the speech, DeSantis criticized the technology, saying that it could lead to government overreach and financial surveillance. He also referenced President Biden's crypto executive order from 2022, which directed government agencies to align on a crypto roadmap that would include the exploration of CBDCs.
Party politics also appear to play a role in the proposed legislation, with DeSantis expressing concerns that if a CBDC were to be introduced, it would be used to "exercise their agenda," citing potential cases of purchase limitation regarding items like firearms and resources like gasoline.
The governor called on other states to follow in Florida's footsteps and enact similar legislation to prohibit CBDCs. He mentioned that Texas may be next, based on conversations he has had with the state's Lieutenant Governor Dan Patrick.
DeSantis isn't the only GOP member to have taken a stand against CBDCs, with others like Congressman Tom Emmer being very vocal about potential risks of the digital asset system, calling it a "surveillance-style digital dollar."
While still a believer in a digital future and economy, Emmer says the U.S. can not afford to "get this wrong." At the time of writing Emmer and his colleagues have just introduced a "CBDC Anti Surveillance State Act" in hopes to help mitigate the creation of a token that is not open, permissionless, or private — as he and a majority of crypto natives see those principles as nonnegotiable, party affiliation aside.
On the other hand, governments around the world who are exploring CBDCs or have already begun to integrate them into their financial systems have done so under the promotion of financial inclusion, increased efficiency, enhanced security, and cross-border payment solutions — presenting centralized digital currency systems as more convenient tools for both corporate and individual users.
That being said, it would seem that the U.S., party affiliation aside, understands the need for enhanced privacy development with CBDCs and has yet to announce any plans to launch one. Currently, the closest thing to a centralized digital system in the States is the Federal Reserve's FedNow program, which is set to launch in July — although it does not use  CBDCs or blockchain technology at the time of writing.
In other news, Venezuela undergoes a major crypto regulatory overhaul amid corruption allegations.