Iconic Hip-Hop Artist, Latashá, Music Video Featured At Sotheby's Auction "My Body, My Business"
After a recent sale at NFT Korea for 15ETH, Latasha shares with fans her current auction at the world's largest and most prestigious marketplace, Sotheby's.
Iconic Hip-Hop Artist, Latashá, Music Video Featured At Sotheby's Auction "My Body, My Business"
After a recent sale at NFT Korea for 15ETH, Latasha shares with fans her current auction at the world's largest and most prestigious marketplace, Sotheby's.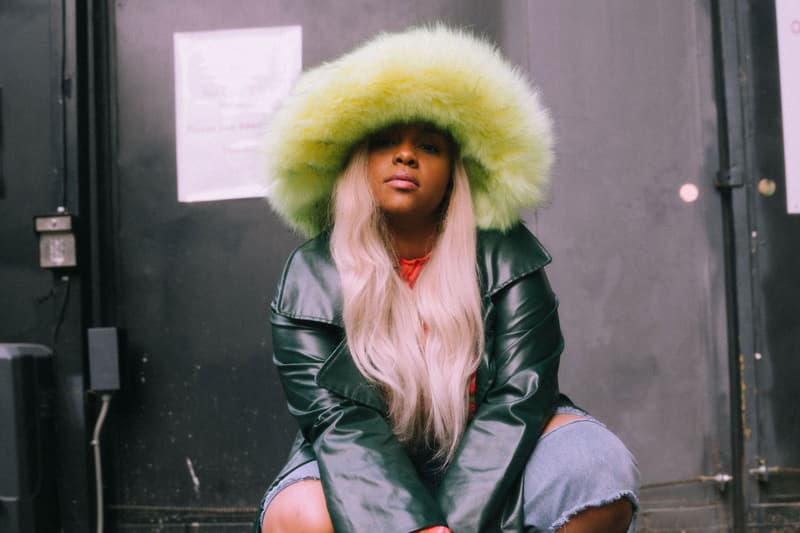 Sotheby's and UnicornDAO have collaborated to launch the "MY BODY, MY BUSINESS" auction in honor of International Women's Day on March 8. This auction is aimed at celebrating women artists and promoting sexual and reproductive health and rights organizations, such as the Planned Parenthood Federation of America.
As an artist member of UnicornDAO, Latashá has had the opportunity to work closely with Nadya from Pussy Riot, who has been highly invested and encouraging of her work in web3. Now Latasha's latest music video "START HERE" is currently available for auction on Sotheby's.
"She asked if I wanted to be a part of the exhibition and auction a work and I said hell yes, as I knew this would be a historical moment for myself, as a Hip Hop bending artist, and the whole exhibition." Latashá shared with Hypemoon.
watch the the full new music visual for my trailer to "START HERE" in auction at "MY BODY, MY BUSINESS" in @Sothebys here. https://t.co/rjFczzsFC1

In support of PLANNED PARENTHOOD, @unicorndao_xxx, @pussyrrriot and @Sothebysverse. pic.twitter.com/SYrgOOf2MZ

— LATASHÁ.eth (@CallMeLatasha) March 8, 2023
After announcing the big news via twitter Latashá and the community expressed their excitement around the auction and what this means for the music space in web3.
"This has honestly been a dream of mine since I first got into web3. A fun fact is once upon a time I performed at Sotheby's for a dinner party. And I remember seeing all this beautiful fine art and saying I want to sell my music visuals here one day. I always wanted my visuals in museums."
Web3 Is Shifting Music Industry Standards
On September 15th, 2022, Sotheby's hosted an auction in New York celebrating the history and
cultural impact of Hip Hop
. It was the first-ever dedicated Hip Hop auction to be presented at a major international auction house
Now Sothebys continues to push forward towards commemorating hip-hip culture and visuals in the digital space and through NFTs. Featuring Latashá's latest music video seems to be just the beginning and a big push for hip-hop arts and visuals towards the forefront in our current creator economy.
"I always believed that music is a fine art and now to bring music visuals to Sotheby's as a Hip Hop artist is a defining moment in transforming the landscapes of high end traditional art and opens doors for other to bring their music videos somewhere this would have never happened before. It's really a dream becoming reality. We are really shifting the paradigm."
The latest sneak peak of the trailer for "Start Here", which is the song that is currently being featured in the auction, is followed  by her music video "PLATTER", which has since received a lot of attention and praise within the community. Latashá's style is known for being unique and iconic with a strong fan base that continues to grow, she shared her inspiration behind these visuals and her very work that got her to the center stage of her music career now.
"My work is inspired by where my spirit is and currently I've been in a space of musing myself. It's a healing process honestly since I am healing from body dysmorphia and anxiety. I have been playing with the idea of transforming my look a lot alongside the music creation cause it allows me to open up in ways I don't think I have when outside of these spirits of myself. So I've just been creating from flow and imagining me being everything I ever wanted to be."
#PLATTER IS OUT NOW ON @ourZORA

100 available for 0.1 ETH
mp3 collectors 0.05 ETH

?️??️??️??️https://t.co/4kmlTszKaY pic.twitter.com/d0EEszkqhQ

— LATASHÁ.eth (@CallMeLatasha) March 2, 2023
"I'm inspired by so much from Missy Elliott, Busta Rhymes, Beyoncé, Grace Jones, Blondie, Josephine Baker, Nina Simone and the list doesn't stop. "Start Here" is about finding the icon in self and was highly inspired by Grace Jones and Honey Dijon."
Latashá is a prime example of a successful musician and artist in the web3 decentralized world, known for representing self-sovereignty and independence by  being part of the evolution and revolution of the current traditional web2 industry route. As a leader with a dedicated fan base, her impact in this space is widely recognized.
"My career completed shifted through web3, being one of the highest grossing music artists in the space, I literally have not needed to sign a deal because I am literally building my label as I go through these modes. I was flown out to Korea to sell a music video that hit over $23k. Something that might of lived on YouTube and wouldn't receive it's value the same. And even more importantly I get to be myself. I think the industry for too long boxed in women rappers and in this space I get to experiment and play in all of who I am."
The music industry has seen significant shifts due to the emergence of web3 technology,"The shifts I'm witnessing as artists utilize web3 as a means for new distribution and a mechanism to find true invested fans is a tell tell that web2 needs to do better for musicians." Latashá shared with Hypemoon. This shift marks a departure from the traditional web2 model, which has failed to adequately serve the needs of musicians.
"I am excited for the web3 space and my hope is we do not do the things we've done in the past in web2. I hope this space puts real value back into music and all it brings and does for its people. I hope this space can change the label system and move us into a creator economy, like it should be."
As a vocal advocate and leader in this space, having achieved significant milestones with Zora, being featured on TechCrunch and Huffington Post, making substantial sales, and now being featured on Sotheby's. If an aspiring hip hop artist or musician in this space were to seek your advice or counsel, what guidance would you give them?
"I would tell aspiring hip hop artists to not be afraid. Don't be afraid of the tech, of the future, of yourself. Embrace everything and then create your boundaries and parameters so all of this doesn't overtake you and you can have you. Challenge yourself in being okay with the unknown."
What can fans and the community expect from you throughout the rest of this year, any upcoming news or announcements?
"Well now that "Start Here" trailer is out…they can get ready for a new realm of Tash coming and some epic worlds being built. 2023 is gonna be the start of a massive wave tho."
Read more about the Sotheby's Auction here: My Body, My Business: Unicorn DAO's Newest Auction Celebrates Women Artists