Dubai Now Has Its First-Ever Art Piece Embracing Divine Female Sexuality in Katie McIntyre's "Zenith Women"
That pushes back against the control and demonization of the female form throughout the Middle East, featuring music by Anjulie.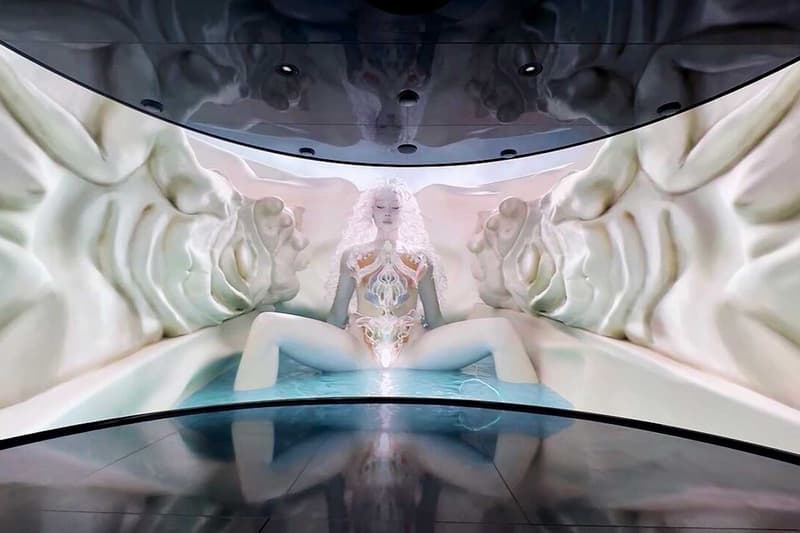 This week, feminine futurist and artist, Katie McIntyre, exhibited her largest work to date in Dubai during the BoulevArt festival, hosted by Art In Space Gallery. 
Zenith Women, is a fully immersive art piece by McIntyre, curated by Auronda Scalera and Alfredo Cramerotti with scents, wind, and music in a 360-degree gallery that transports the viewer into a peaceful, divine feminine realm that features a woman's legs opening and emanating light.
ZENITH WOMEN— a groundbreaking nft art piece pushing back against the control of the female form in the gulf, exhibited in Dubai. contact for purchase @xxnftwomen @AurondaScalera @artinspace_art @Anjulie #3dart #nft #womenpower #womenartist #art #dubai pic.twitter.com/O7wVfaBZUe

— Katie McIntyre (@KatieeMcIntyre) March 18, 2023
According to McIntyre, this piece actively challenges and pushes back against the current control of the female form in the Middle East.
As viewers take in the piece, they will hear the song, "I am open," by Indo-Guyanese producer and songwriter, Anjulie Persaud (aka Anjulie), as a goddess woman opens her legs repeatedly.
Anjulie, who has recently entered the Web3 music scene, has previously collaborated and co-written with Nicki Minaj, Lady Gaga, Kelly Clarkson, Diplo, Zedd, Boombox Cartel, TheFatRat, Benny Benassi, and others. She has produced 10 female-led NFT projects, with her work featured on Foundation, SuperRare, and Crypto.com. She is also the first female artist to have a residency in the metaverse, in partnership with Decentraland Games. 
"Healing the sins of patriarchy Returning home to femininity Planet Ka-An looks a lot like Earth except there are real life superheroes. These are not the superheroes you Earthlings are used to. They have no spider webs or bat caves or flying capes. They aren't titans of industry or conquerors of land or captains of capitalism. They aren't girl bosses or bad asses or freedom fighters or heavy hitters or trailblazers or content creators or go getters or wheelers and dealers or movers and shakers. They do not subscribe to grind culture. They are still. They are slow. They are calm. They exist in the feminine future; a post patriarchal state of serenity. They bathe. They dream. They breathe. They are attracting, not chasing. They are larger than life. Free from the fight. Givers of light. All hail Zenith Women. Artwork Created by Katie McIntyre and Music by Anjulie," the art piece's description reads.
Sitting alongside works by Refik Anadol and other world leading digital artists, McIntyre's piece is one of the first pieces of its kind to ever be exhibited in the Gulf, as it reclaims female sexuality in a part of the world where it's largely suppressed – repositioning female sexuality as divine, rather than something that is able to be controlled and demonized.
"This also represents a major shift in perspective on women's empowerment and acts as a voice for women," McIntyre told Hypemoon.
At 25-years old, McIntyre is more than just an artist – she's a beloved industrial designer and technologist that has continued to actively create a universal design ethos that she believes goes deeper than simply throwing the words "empowering women" on a marketing ad.
"Zenith Women" is another powerful testament to this, as a public art piece that resembles a similar ethos to the album cover art she designed for Latto and her 2022 single, "Pussy" in response to the horrid decision by the U.S. Supreme Court in overturning Roe v. Wade.
"…you have sort of a piece that hits at a time where politics are necessary in design, or they're all intersecting, and you almost need that cathartic moment for women, and anyone who wants to see women empowered," she reminded Hypemoon.
The album artwork for Latto's "Pussy," which went viral, was also censored in some Middle Eastern publications.
Named by TIME Magazine as "one of the world's leading female VFX artists, McIntyre has carved her place in pop culture history as the go-to VFX artist, having designed album artworks for Cardi B, Nicki Minaj, Normani, Lizzo, Latto, and many others. 
From the world's first 'feminist futurist' car, Dakini, and Zero Gravity Space Suits to Shameless Menstruation and Lactation Couture, McIntyre's visually stunning, futuristic art incorporates historical and feminist art principles into emerging design philosophies that have allowed the technologist to successfully navigate big tech as a woman in design. 
She has lectured in the country's most prestigious STEM universities like Carnegie Mellon, and has been tapped by companies like Google Creative Labs and Apple to work on innovative new product lines. 
By all accounts, McIntyre is that "anti-hero" Web3 needs when it comes to empowering women to challenge the patriarchy, using her work to create this additional dimension of thought and perspective towards the human body and the feminine that she feels should be a universal medium, regardless of gender. 
Zenith Women can be purchased directly from Art In Space Gallery for 6 ETH (approx. $10,100 USD as of press time).
In other news, Stop Asking Where Women Are in Web3 — Instead, Be Intentional and Seek Out the Ones That Are.