Pioneering Digital Artists Reimagine Works from LACMA's Permanent Collection
In a collaborative initiative titled Remembrance of Things Future that builds on the museum's ongoing experimentations with art and technology.
Pioneering Digital Artists Reimagine Works from LACMA's Permanent Collection
In a collaborative initiative titled Remembrance of Things Future that builds on the museum's ongoing experimentations with art and technology.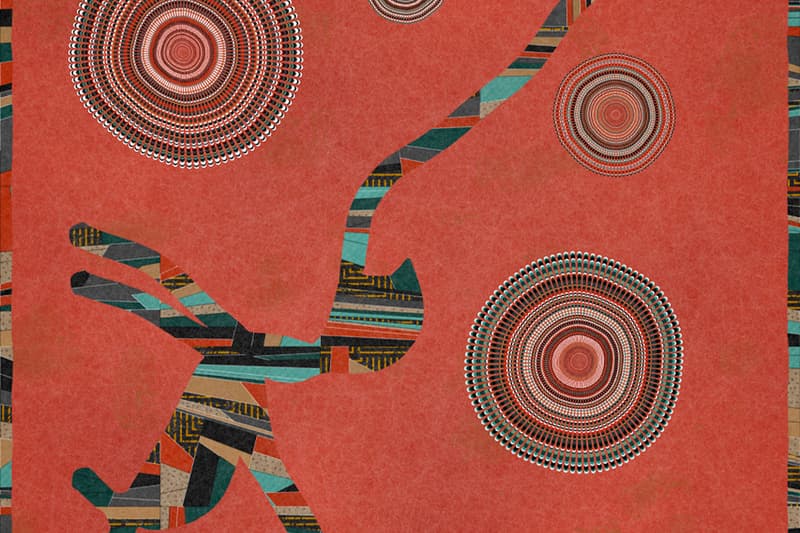 LACMA, the Los Angeles County Museum of Art, has partnered with the blockchain-based Curatorial Experimental Lab, Cactoid to present Remembrance of Things Future.
The initiative brings together five pioneering digital artists to build on the museum's ongoing experimentations with art and technology — with each artist selecting works from its permanent collection to reimagine into new digital examples. Participating artists include Emily Xie, Jen Stark, Monica Rizzolli, Ix Shells, and Sarah Zucker.
Meet The Artists
Emily Xie
Based out of New York City, Xie is a generative artist that writes algorithms to create lifelike textures, patterns, and forms. Xie is Harvard educated and holds a bachelor's in the history of art and architecture, and a master's in computational science and engineering.
Her systems primarily navigate a variety of delicate balances at once, including the interplays between chance and control, the organic versus the systematic, and the abstract versus the representational.
The artist's work has become a leading example of generative art in the Web3 space and as a result, has been shown and collected around the globe.
Some of her more recent exhibitions include those with Kunsthalle Zürich, Unit London, the Armory Show, Bright Moments, Art Blocks Curated Season 6, and Times Square in NYC.
Jen Stark
Drawing upon an ever-expanding use of material and technology, Stark allows her aesthetic to transcend all forms of media, ranging from paintings and sculptures, animations and installations, to interactive projections and blockchain art.
The Los Angeles-based artist does this through transforming complex ideas about fractals, evolution, color theory, topography, sacred geometries, and patterns of the universe into engaging works of art.
As a result of her work, Stark was recently included as one of Fortune's "NFTy50," and made history as the first female artist to make Foundation's top 10 highest-selling blockchain creatives.
Throughout her career, Stark's work has been exhibited globally, with major shows and public art installations in New York, Los Angeles, Miami, Chicago, Thailand, and Canada. The artist's work is currently held in the collections of the Smithsonian American Art Museum, the West Collection, Crystal Bridges Museum of American Art, NSU Art Museum, and MOCA Miami, among others.
Monica Rizzolli
Having begun her career as a painter after graduating from Brazil's UNESP, Rizzolli would later discover and teach herself creative programming while studying in Germany at Kunsthochschule Kassel in 2012.
In 2015, at MAK Center for Art and Architecture in the U.S. the artist presented her first generative work, which garnered her the MAK-Schindler research grant.
She would later spend time back in Brazil, where she co-created the creative programming meeting, Note de Processing, at Gara Hacker Clube and was involved in organizing the Processing Community Day Brazil.
More recently though, Rizzolli's primary body of work revolves around generative works, with her series Fragments of an Infinite Field on Art Blocks solidifying her position in the generative art field in 2021.
Ix Shells
Based in Panama, Itzel Yard, known to Web3 and the metaverse world as Ix Shells, is a self-taught coder and artist with a background in architectural technology.
With humble beginnings in which she learned creative coding on YouTube, and has since risen to become one of the most recognizable names in contemporary generative art.
In 2021, her breakout work, Dreaming at Dusk, a collaboration with the Tor Project, became the highest-selling NFT by a female artist. That same year, Yard was featured in Fortune's "NFTy50."
Her work has been acquired by the Buffalo AKG Art Museum and exhibited in world-renowned shows such as Art Dubai 2022, Kraftwerk Berlin 2022, and Fotografiska Stockholm.
Additionally, Yard's accomplishments and influential presence within the metaverse have cemented her as a female pioneer who has set the precedent for girls and women interested in computer science.
Sarah Zucker

Known to the internet as thesarahshow, Zucker is a writer and artist that merges humor, myth, and mysticism with the interplay of cutting-edge as well as obsolete technologies.
She works across mediums, combining performance, animation, and figuration within a digital-analog approach to video-making — mining her art to the blockchain as early as 2019.
Her work was part of Peer to Peer, the first survey of leading artists engaging with the blockchain presented by an American museum. Her video art series Four Caryatids is now in the permanent collection of the Buffalo AKG Art Museum and in 2022, she was named to the inaugural NFT100 list by NFT Now as one of the top artists working with NFTs.
Zucker holds a BA in Theater-Creative Writing for the Media from Northwestern, and an MFA in Dramatic Writing from NYU.
Inspirations behind Remembrance of Things Future
As the largest museum in the western United States, artists had quite the task of selecting the works they would use as inspiration for their experiments.
To put things into perspective, each artist was allowed to select one work or a series of works from a single artist from LACMA's roughly 149,000 objects that span the artistic expression of 6,000 years.
Nonetheless, the artists were able to narrow down their selection and produce a variety of unique takes, bringing these past works into the world of digital art and Web3.
Xie shared that "The LACMA collection contains an incredible assortment of quilts that I felt myself immediately drawn to."
She went on to explain that "aesthetically, I love how disparate patterns and pieces of fabric come together to create a cohesive whole," adding "on a more conceptual level, quilts reflect a core aspect of generative art in that there's a compelling tension between computational and the organic."
The artist also expressed how she appreciated and was inspired by the duality of quilts being extremely personal objects but that at the core of how they are created, they consist of structured and mathematical geometries and colors.
Excited to reveal the art I'm releasing for the @cactoidlabs + @LACMA project, Remembrance of Things Future!

Title: "Generative Patchwork and Bullseye"
Edition size: 100
Release date: March 8thhttps://t.co/zh3lwBAjz8

?(1/6) pic.twitter.com/STxEcaKJuZ

— Emily Xie (@emilyxxie) March 6, 2023
Taking similar inspiration, Jen Stark shared that her work was "a reflection on the vibrational geometry found within LACMA's Quilt, Log Cabin (Barnraising Variation)."
She explained that she studied fibers in college and has "always loved the meditative quality of such a process-oriented medium, having grown up around my great-grandmother's hand-sewn quilts."
The artist added that she "wanted to create a meditative piece that harnessed the trancelike experience of encountering these hypnotic patterns, extracting and enhancing the impact of color and line."
Launching ?TODAY? "Remembrance of Things Future" presented by @LACMA @CactoidLabs

More info: https://t.co/iUfOcFPzKG
Discord: https://t.co/ceZOXnYOub

Here's my final artwork "Muted Refraction" alongside my inspiration: a 19th-century quilt in @LACMA's permanent collection ? pic.twitter.com/EyrpgGU3cU

— Jen Stark (@Jen_Stark) March 8, 2023
Monica Rizzolli shared that she was inspired by Katsushika Hokusai's series A Tour of Japanese Waterfalls explaining that "I was 17 years old when I first encountered Hokusai's work," she added that "since then I've been interested in the schematization of natural elements and the limit between abstraction and figuration in Ukiyo-e."
She expressed that other exciting possibilities for generative art can be found in "the use of geometric and floral patterns in these 17th-century woodcuts."
As part of her process, Rizzolli shared that she "isolated Hokusai's primary compositional elements and sought to understand their interactions," using her algorithm to select a final output that would become her edition in the LACMA x Cactoid project.
?(1/6) I'm excited to reveal the art I've created for the @cactoidlabs + @LACMA project Remembrance of Things Future!

A Tour of Hypothetical Waterfalls

Editions: 100
Release: Mar. 8thhttps://t.co/e0CTlNVwCV

*to be followed by longform generative release from same algorithm pic.twitter.com/HXr2LuZhEO

— Monica Rizzolli (@MonicaRizzolli) March 2, 2023
In the case of IX Shells' work Ahead of Time, the artist shared that early photographs like the botanical image she selected "were commonly used to examine nature and advance scientific inquires on a widespread basis."
She explained that "in my own practice, I have a strong dialogue between nature and its juxtaposition to the inorganic digital realm where my creations live," adding that "the blockchain allows for a far-reaching distribution of my studies," just as her selected inspired work was able to come into print in the 1850s.
Excited to reveal the art I'm releasing for the @cactoidlabs + @LACMA project, "Remembrance of Things Future"

Title: "Ahead of Time"
Edition size: 100
Release date: March 8thhttps://t.co/vNJrj9ZgLc

— Ix Shells ( ••) (@ix_shells) March 8, 2023
Sarah Zucker shared that she was "drawn to Two Dancers by Ernst Ludwig Kirchner because it evokes sensuality through harmony."
Further explaining that "German Expressionism has had a huge impact on the development of my own visual langue, and I respond strongly to the balance of soft feelings and strong lines in this work."
"I love that the dancers' individual identities are ambiguous, in the process of merging, and defined solely through the dance they do together," Zucker expressed.
1) Pleased to unveil my new artwork as part of Remembrance of Things Future, presented by @LACMA + @CactoidLabs.

"2 answers"

A signature VideoPainting in an edition of 100.
Launches March 8th.https://t.co/Ihw8qZ6jqX

Where did this come from? What does it mean…? (?) pic.twitter.com/A4qvFg78yw

— Sarah Zucker (@thesarahshow) March 7, 2023
"I think on a macro level, there's a big shift happening in terms of the traditional art world and the museum art world really beginning to embrace this digital renaissance that we are all a part of and witnessing," shared Lady Cactoid, the co-founder of Cactoid Labs in a recent SHILLR Twitter space, where she shared broader thoughts on the future of the digital art space.
Going forward, and in addition to the limited works produced from this first exploration with Cactoid Labs, LACMA plans to release new long-form generative works from artists like Monica Rizzolli, William Mapan, OxDEAFBEEF, Tyler Hobbs, and more.
The museum's primary goal is to continue its long tradition of collaborating with artists to create limited editions, with a percentage of proceeds from the upcoming offerings being dedicated to support its Art + Technology Lab.
In other news, Foundation empowers curators with new editions-based tool.