Christie's 3.0 to Uplift Digital Artists with 'Next Wave: The New York Edit' Auction
Featuring artists like Ripcache, Des Lucrece, ACK, Brooke DiDonato, Terrell Jones, and more — with online bidding opening April 12 and a physical exhibition open to the public Aril 13.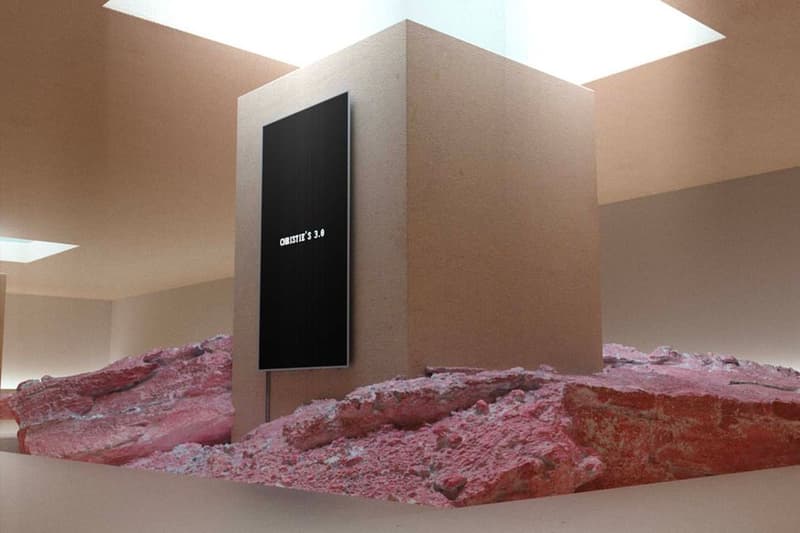 Storied auction house Christie's has announced its latest digital art exhibition, 'Next Wave: The New York Edit,' taking place in alignment with all of the events going on in the Big Apple during NFT NYC.
The exhibit features works from 12 different artists including Ripcache, Jack Kaido, Roope Rainisto, Samantha Cavet, Brooke Didonato, Alpha Centauri Kid, Terrell Jones, Joshua Davis, Yosnier, Dave Krugman, Lascaux, and Des Lucrece.
Online bidding for the works begins on April 12, with a physical exhibition to be open from April 13 to 18 at Christie's Rockefeller Center Galleries — for those unable to attend in person, there will also be an interactive virtual gallery through the auction house's C3.0 site.
i'm so excited to present @christiesinc latest digital art auction with artists and friends including @ripcache @thisjackkaido @rainisto @samanthacavet @brookedidonato @terrelldom @lphaCentauriKid @JoshuaDavis @Yosnier_ @dave_krugman @Lascauxart @DesLucrece ? pic.twitter.com/nKCYLkaTgx

— sebastian (@sebastianss527) April 6, 2023
Sebastian, part of the team behind C3.0 and the latest The New York Edit exhibition shared in a tweet that "Next Wave is our place to showcase artists we believe are influencing the future of digital art" adding that "we wanted to present a range of mediums, from AI-generated photography, on-chain SVG, generative art, digital abstract expressionism, and more."
Hello @ChristiesInc

Bidding opens April 12th bring your forks ? pic.twitter.com/v1o1cwhfbh

— Brooke DiDonato (@brokedidonato) April 6, 2023
I'm proud to announce that Madonna of the Garden will be at auction April 12-19th at @ChristiesInc! ? pic.twitter.com/9gg8fipYfg

— Lucréce (@DesLucrece) April 6, 2023
i'm excited to finally share that Pariahs will be auctioned via Christie's @ChristiesInc April 12-19! i'm so grateful for this opportunity ?? pic.twitter.com/S0afY0aAUb

— terrell jones (@terrelldom) April 6, 2023
In the same tweet thread, Sebastian explained that Next Wave is just "one example of what we're doing to uplift digital art," explaining the team also selects works to be featured in its online TradArt and live auctions — with more to be announced on the matter soon.
They added that another focus is to strategically place digital art in collections that the team has identified to provide long-term benefits to the artists being collected.
"What's cool is that our Christie's 3.0 platform supports on-chain bidding and settlement, which I am particularly excited about from a technological point of view." By utilizing on-chain bidding, the site can forgo a buyer's premium, which Sebastian states is the norm in most TradArt auctions.
Another interesting aspect of the upcoming sale is the auctioning of a complete set of ACK's The Great Color Study NFTs. Which the artist says is his "first secondary sale" with the house. While it would appear that most other artists in the lineup are providing new works to be sold, ACK's set of 10 works plus 'pale blue death' will be auctioned from the secondary market.
pale blue death + The Great Color Study full set will be available as one lot via Christie's NYC and will be on display there starting next week. i'm very proud to have this collection of works as my first secondary sale with Christie's and to be alongside my peers once again pic.twitter.com/QVEXKEab33

— Alpha Centauri Kid (@lphaCentauriKid) April 6, 2023
When asked how it compares to his experience auctioning his physical and digital works 'The Muse' with the house, ACK tweeted "well it's all out of my control really. I'm just a spectator like everyone and here to support my art and my peers. It's a strange and exciting feeling I must admit."
Wrapping up his thoughts on the exhibition, Sebastian stated that he is "proud to be part of the team at Christie's which is listening to the market and offering auction mechanisms that are both trad and crypto-friendly," expressing his ambition to see the two worlds continue to merge as one.
In other news, Art Blocks launches a secondary marketplace where creator royalties are "always" included.