Community, IP, and Talent: 0N1 Gears Up for a Triumphant Return Under New Leadership
From volunteer to CEO, Henry Finn aka Starlordy, tells the story of 0N1 Force's revival, while revealing a new all-star leadership lineup, which includes the likes of David Uslan, whose family owns the TV & film IP rights to the "Batman" franchise.
Community, IP, and Talent: 0N1 Gears Up for a Triumphant Return Under New Leadership
From volunteer to CEO, Henry Finn aka Starlordy, tells the story of 0N1 Force's revival, while revealing a new all-star leadership lineup, which includes the likes of David Uslan, whose family owns the TV & film IP rights to the "Batman" franchise.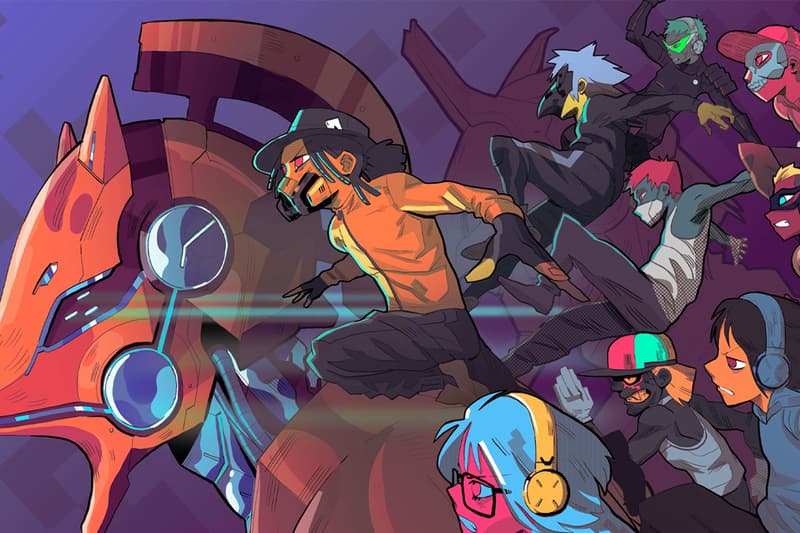 Navigating a down market, leadership change, and public scrutiny can be a difficult task for any brand in any industry but especially challenging in the Web3 space — with chances of a successful comeback slim to none for most who attempt it.
However, that's not been the case for PFP project 0N1 Force, which has defied the odds and exemplified just how valuable a strong community and intellectual property (IP) can be in the NFT space.
While the brand, regarded by many as the OG of anime-style PFPs, is now seeing a comeback season — its path to this point was not without trial and tribulation. To gain insight into 0N1's journey and a look into its future, Hypemoon spoke with its community-appointed CEO, Henry Finn, aka Starlordy.
Volunteer to CEO
"Initially, I imagined myself as a weekend helper that might provide some marketing advice, but I never imagined I would end up taking such a prominent role."
Finn shared that his journey with 0N1 began when he became a volunteer at the start of 2022, sharing that as one thing led to another he found himself in the role of project manager and "very quickly fell in love with the community because it is filled with really special, good-hearted people that just love storytelling, art, and community."
He explained that he feels a deep responsibility towards the 0N1 community and that they're the reason he's stayed on through thick and thin, adding that "in many ways, I was raised by the community and developed my Web3 identity through the lens of 0N1 Force because, for the longest time, it was just us."
Fast forwarding to February of this year however, 0N1 would find itself being acquired by Old Fashioned Research (OFR) — an event that media outlets like nft now attribute as the spark that has started the brand's resurrection.
He told Hypemoon that this move also put him at a personal crossroads:
"I have to confess, initially I was planning on exiting 0N1 Force after the acquisition because I have many ambitions of my own, but after meeting Wei Zhou [OFR strategic advisor/key investor] and his team I realized I was being given a once-in-a-lifetime opportunity to learn from the best, so I decided to stay."
Further expressing his motivations, Finn shared "it's a combination of my belief that I am truly suited for this role in a way I can't see anyone else fulfilling, as well as being incredibly excited to work with such an esteemed ownership group."
While it can be difficult to assign an exact dollar to an IP that exists in a speculative market sector such as digital collectibles, Finn believes that this is "a golden opportunity to build a 10 billion dollar brand someday that competes with the biggest IPs in the world," adding that "I humbly but also confidently am proud to be the one who can take a leadership position to help us manifest our destiny in a big way."
Another major factor that has turned into a strength for the community-appointed CEO is the turbulence he's been able to face and overcome alongside his community.
"As someone who was forged in the fires of a project that had dropped from 7 ETH to 0.2 ETH  by the time I came on, I have a unique perspective and place in Web3 history. There is no other CEO that can say that they have earned their title from suffering with the community as long as they had. I came in at the perfect time to experience what they were experiencing, and I realized very early on that my job was not just to manage the project, but to protect the community and the project so that everyone could eventually have the chance to win with us."
Finn humbly admitted that he never expected to go this far but that he is honored beyond words to have been selected to lead the 0N1 community.
"They chose me by giving me a chance when they had no reason to trust me. They chose me by being vocal about their support for me, which I am eternally grateful. And finally, they chose me by making it loud and clear to the original founders and the new ownership group that they saw no better choice than myself to lead this project to the promise land," he shared.
The CEO also noted that as part of the recent acquisition by OFR, there was an understanding that it was as much a community buyout as it was a company buyout and that to date the group has honored this, prioritizing the community at every step.

Comeback Tour
"Regardless if you're a holder or not, if you've ever been doubted or outcast then you're one of us, this comeback isn't just for us — it's for you."
On Tuesday, 0N1 announced on Twitter that "The Comeback Tour Starts Tomorrow," with a graphic teasing significant dates in the history of the project and its community, with May 31 being hinted at as the next milestone for the brand.
However, not much information is known at this time about what is to be expected on each of these dates.
"The comeback tour is our way of establishing that the new chapter of 0N1 Force begins now," shared Finn, explaining that "a lot of people in the community have been waiting for the next chapter. Now that we have completely new ownership that is stellar and the original founders are 100 percent out, we want the community to know that we have truly turned over a new leaf and it is safe for them to look at us in a new light."
For those that get it… pic.twitter.com/OoGfDNKK9x

— 0N1 FORCE (@0n1Force) May 23, 2023
Finn acknowledged that while it will take time to rebuild trust, he and others in leadership are "committed to showing through actions that we are prioritizing the community first and foremost."
He added that the comeback tour also represents a unique moment in Web3, stating that "we are the last original bluechip from 2021 to have this opportunity to reintroduce ourselves and make a big splash. What we have learned is that people from all communities are excited for us and everyone can identify with an underdog comeback story so the tour is our way of saying we see you."
While the tour has just now officially started, the brand has been steadily releasing value propositions to its community for the last few months, including its Franchise, R0nin Ambassador program, and more.
"From our perspective, NFT is one of the best applications and approaches to onboard massive retail users to the Web3 world because it's so easy for everyone to understand and truly own an NFT," said Wei Zhou, Strategic Advisor of 0N1 and OFR, adding that this aligns with OFR's mission in driving blockchain's mass adoption globally."
"Among all the NFT collections that hit great success in the 2021 NFT summer, 0N1 Force is a unique one that is artistic and committed to comics, and we see its high potential in developing into a global cultural brand," Zhou added.

Building an All-Star Team Who Can Leverage Mainstream IP
A large and enthusiastic community is important but as the NFT space has shown time and time again, if there is no significant IP to be leveraged to produce value for that community, it will eventually crumble.
"For a very long time we were considered a 'dead project', and rightfully so — from an outsiders perspective." However, the CEO identified one major factor that was a key point in the communities resilience, stating "We all knew that this IP is something truly special," Finn told Hypemoon.
He emphasized that he and the team all knew that this IP was meant to achieve great things — even against all the odds, they stuck together to prove this thesis right.
"The silver lining here is that despite the prolonged suffering we ended up growing closer together, and defining ourselves in a way that only the strongest could understand," he said.
Turning to 0N1's IP strategy, Finn said that moving forward, the newly established team is positioning its brand to be a triple-A storytelling platform that has goals of reaching the top of both the Web3 and Web2 realms.
"We see ourselves as the one true home for artists, creators, misfits, outcasts, technologists, and futurists," he explained.
Finn shared that 0N1 will look to leverage mainstream IP with its ecosystem to create a worldwide distribution network across a variety of traditional platforms that will introduce the brand to tens of millions of people.
"We know that our IP is truly unique and ready for mass consumption so we will be providing next-level personalized storytelling that creates rabid fans."
One of the most exciting additions to the 0N1 team is TV and film producer, David Uslan, whose family owns the TV and film IP rights to the entire Batman franchise, who will serve as a strategic advisor to 0N1. Additionally, the project also added Hicham Habchi as creative director and Kushagra 'Kush' Kushwaha as an in-house animation supervisor.
"We are extremely pleased to announce David Uslan and his company IP3 as official advisors, shared Finn, adding "They will provide the network that allows us to grow our IP in a meaningful way — whether it is top streaming services such as Netflix or Amazon.
As the new creative director and advisor, Finn shared that Habchi will "help us level up our branding to Triple-A quality," explaining that he's particularly suited for the job as "he has worked as a principle director at Riot Games, working on Valorant and Overwatch to name a few."
Habchi has also provided designs and direction for Batman, Harley Quinn, and many other iconic superhero/vigilante characters throughout his career.
"He brings a level of talent and network that no other Web3 project has done before," Finn said.
As for Kushwaha, some of his most notable work has been with major anime IPs including Yu-Gi-Oh and Jojo's Bizarre Adventure. Finn shared that Kushwaha will act as an internal advisor and help 0N1 navigate the industry while creating content at scale.
Prepping for San Diego's Comic Con 2023 With an Upcoming Comic Book Line
Marking the additions of Uslan, Habchi, and Kushwaha into the 0N1 ecosystem, Finn also teased that it 0N1 will be attending this year's San Diego Comic Con (SDCC).
0N1, according to Finn, was one of the very first NFT projects to debut at Comic Con in 2021, and will be "the first NFT project to return triumphantly with previews of [its] comic book lines."
Currently, 0N1 has two developed titles that are slated for distribution in both comic and bookstores across the globe — a move that Finn said marks the first and only case of an NFT project to do so in this manner.
"We are here to make a deep impact on the comic book industry and more importantly set ourselves up as the IP brand of the future," he said.
To achieve these goals and others, Finn shared that since the acquisition by OFR, the brand has focused on "bringing top-tier talent to help us grow in the areas of IP development, Creative direction, anime, gaming, and more."

More Than a "Digital Flex"
Behind the investors, advisors, and strong IP is quite possibly 0N1's greatest strength — its community, which the brand has been developing various ways to reward and recognize for some months now.
"Community is at the forefront of all our thinking," shared Finn, explaining that "our initiatives like the franchise or r0n1n model is a direct result of listening carefully to our community and thinking deeply about how we can help solve their problems or provide support in their dreams."
He shared that because 0N1 Force is IP-driven, members who wish to build on their characters can do so and will receive support in the form of assets, lore, and business development through the franchise model.
"We are providing a way for everyone to participate and be rewarded whether you are a casual holder that just wants to see their PFP be included in our content or you have big dreams and the gumption to build a brand around your PFP, we got you," he said.
By creating value propositions like these, Finn and the 0N1 team are looking to forge PFPs that are "much more than a digital flex."
"Holding our PFP signals something much deeper than that. If you care about history, provenance, storytelling, and art -this is the project for you," he shared. Other values Finn highlighted included a forward-thinking stance, inclusiveness, and openness. 
With this in mind, Finn says that moving forward, 0N1 will continue to put the community first and enable them to define future priorities and grow alongside the IP.
"Our community is a unique cross-section of anime, comics, gaming, fashion, and lifestyle," Finn said, explaining that "as a result, we have created many initiatives that serve the purpose of growth in those areas, and the community will be extremely pleased with the results — because they were the ones who sent us in that direction whether they realize it or not."
While Finn seemed to share quite a bit on the revitalization and restructuring of 0N1, he also left us craving more about what's to come with SDCC 2023, which he says will include important announcements and sneak previews that will "put the world on notice."
In other news, read about Starcatchers updated goals under the direction of its new CEO.