Consensus 2023: What Will History Say About This Moment In Web3?
With industry leaders including Bobby Hundreds, Kevin Rose, Cathy Hackl, and more diving into how this new technology impacts tomorrow's promise versus today's opportunity.
Consensus 2023: What Will History Say About This Moment In Web3?
With industry leaders including Bobby Hundreds, Kevin Rose, Cathy Hackl, and more diving into how this new technology impacts tomorrow's promise versus today's opportunity.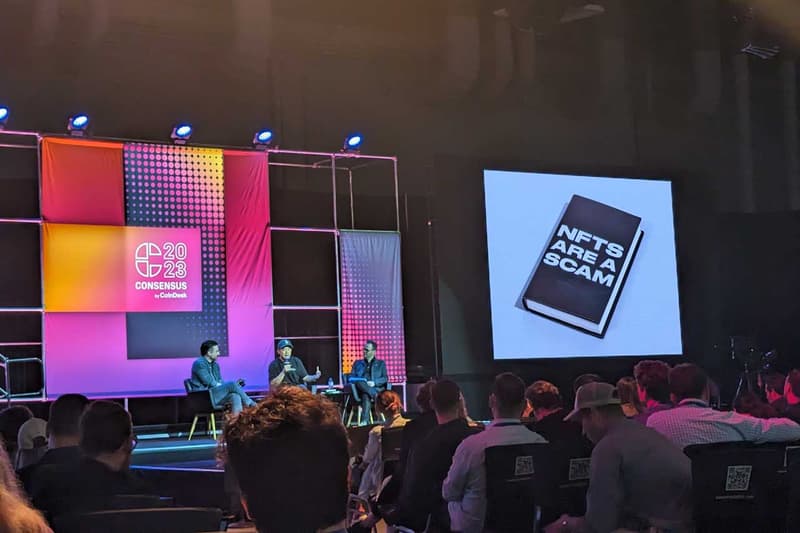 With over 15,000 attendees, this year's Consensus 2023 by CoinDesk brought more than 400 speakers and 550+ mainstream and Web3-native journalists from across the globe to Austin, Texas. 
Hypemoon attended this year's Consensus 2023 and below is a highlight of some of the more interesting, substantive conversations that dive into labels and cancel culture, while managing high (and often) unrealistic expectations as founders. 
Art Blocks Debuts Marketplace That Will Enforce Royalties
Over the past year, the digital art sector has unfortunately been kneecapped due to the ongoing royalty debate, where Ethereum marketplaces like OpenSea and Blur have taken very different positions on how they treat creator royalties.
Texas-based generative art collective, Art Blocks, announced in March the launch of its NFT marketplace that will takes no platform fee for secondary trades that occur via its marketplace, while honoring and enforcing artists' own specified creator royalty settings.
"A lot of people know Art Blocks as a destination for generative art, but we also have this behind-the-scenes tool and platform, Art Blocks Engine, that helps creators and companies interact with generative art in a way that nurtures community," said Hannah Siegel-Gardner, Chief People Officer at Art Blocks in an in-person interview with Hypemoon.
Siegel-Gardner referenced the new Consensus NFT Pass, "Microcosms," which was a collaborative effort among CoinDesk, Art Blocks, and Passage Protocol. She says that what she has seen so far with the NFT pass has been "highly successful."
"What started as a piece of generative art turned into a collaboration with incredible artworks and artists. You have a beautiful piece of art as the cherry on top, while you also receive generative benefits attached to the digital ticket. The first set of data that's coming back to us is that the collectors have visibility, or for the most part, people that don't have an affinity and this is their first form of identity," she said.
Turning to the royalties debate, Art Blocks co-founder Erick Calderon has been extremely vocal about he and Art Blocks' positioning and its new mechanism for allowing creators to keep on creating.
"Erick is an incredible artist," Siegel-Gardner said, adding that "[Art Blocks] has a cultural incentive to make sure that artists are able to have their careers rely on the ability to create freely."
She continued by emphasizing royalties as "an essential ingredient."
"…the reason we're so inspired to come to work every day is because of this everlasting chain — not only seeing a project work its way through collectors over time, but one that really rewards the artists by giving them the means to keep moving forward integrating. That's the point of view of our secondary marketplace."
Calderon also took the stage on day one of Consensus, presenting his case for creator royalties, while praising the fundamental value-add that digital collectibles bring to the space.
"The concept of being able to not slog through continuously releasing artwork in order to make a living – but being able to be more thoughtful on your releases and create something that can generate in perpetuity, additional income," is appealing to creators, said Calderon.
Speaking to the overall value proposition that digital collectibles will continue to bring to the space, Calderon said that isn't changing:
"No matter what the stock market cycles do, no matter what [failed crypto exchange] FTX does and no matter what happens with our regulation in our government, the value proposition of being able to prove ownership of a digital asset cannot and will not change," he explained.
Art Blocks' new marketplace certainly addresses the traditional art world, which often keeps its activities behind closed doors, while Web3's approach to digital art pushes for building out in the open.
"We are all building in the open. We are all innovating in the open. We are all transacting in the open. We know exactly who's paying royalties and who's not paying royalties," Calderon concluded.
Are NFTs a Scam? Or Are They the Future?
In 1916, Charlie Chaplin famously declared, "the cinema is little more than a fad," while his contemporary Guglielmo Marconi predicted that wireless communications would make wars impossible. 
Fast forward to 2023, where we are now at the forefront of a technological revolution and tectonic shift in digital communication infrastructures. How will today's understanding of Web3 hold up next month? Next year? Five years? Or even decades from now?
CoinDesk's Sam Ewen led and moderated what felt like the conference's most valuable panel, which brought Bobby Hundreds, co-founder of The Hundreds and Adam Bomb Squad, and Proof CEO Kevin Rose together on stage to talk about the legitimacy of NFTs and how they as founders deal with the daily mental and emotional pressures of living up to community expectations and demand. 
Bobby Hundreds, whose real name is Bobby Kim, had the opportunity to dive a bit into his upcoming memoir, "NFTs Are a Scam/NFTs Are the Future," which releases this month, and whether his book actually answers that question.
"I cannot answer that question, but I urge you to preorder the book to find out the answer," he quickly declared, emphasizing that the reality is that NFTs are a fluid conversation that continues to grow. 
The epilogue, which Kim says is essentially his takeaway message for the book, addresses the overall rush to make judgments and verdicts on not just the technology, but on people, culture, and the world in general.
"We're not allowing technology or innovation to grow and breed," Kim explained, adding that we are still very early in the inception stages and that we need to allow the progress to breathe and mature organically. 
Rose, who agreed with Kim's position on it being too early to label this technology as a "scam," also pointed out the number of actual active users in Web3:
"It's hard, because the actual active users in this space are such a blip. In some sense, this may just all be forgotten in terms of this moment, where NFTs could turn into a technology that is pervasive and usable – and not so much as remembering the little scammy components of it," he said.
The Proof CEO continued with "this space being an echo chamber, because Twitter is a great platform for amplifying and giving everyone a microphone," while recognizing the ease with which people can simply call out and label projects a "scam."
Ewen then shifted gears, asking Kim and Rose to explain how they as founders emotionally manage the communities of people who don't always understand how to separate the digital assets/products from them as the founders/business executives. 
"I own both of your assets. I don't think differently about you guys in terms of whether that has affected my emotional relationship. But there are those who are sitting there like 'hey Bobby, a Bomb used to be 1 ETH, and now it's .3 ETH – what's going on here?'" Ewen presented.
"That's a tough one, because there's two sides of that coin," Rose said, continuing that it's something Proof thinks about a lot in how to thoughtfully move into the market in a responsible way. 
"There is someone that sold a Moonbird at 40 ETH that bought it for 2.5 ETH who then gives me the biggest hug and tells me [they] paid off their college tuition. And then there's the other person on the other side. When [those] shoot up to hundreds of thousands of dollars, expectations are way out of whack, and it screws with people. 
Rose also said that if you were to go back and historically search all of his past tweets, he's purposefully never talked about floor price.
As the conversation concluded, The Hundreds co-founder also advised the need to afford founders and creators the room to grow and make mistakes, which is inherent and crucial to any startup:
"I think we need to allow forgiveness and room for founders, creators, artists and entrepreneurs to create. We want to let them fail and make mistakes over and over again, because as we all know, tech and science is all about making these errors and correcting them as we get closer and closer to the truth. People call anyone out now for stumbling – call it cancel culture or whatever has been happening with NFTs over the last couple of years – and everyone's quick to jump on and be like 'you fucked up and you're out.' And it's like, wait, fucking up was a part of getting to a better place and you have to let people fuck up. I've never been a fan of a brand, artist, or anybody who's had a perfect, seamless career. It's insanely boring. It's not disruptive. It's not creative to me," Kim emphasized.
Rose added the fact that when a project is tied to someone's pocketbook, it becomes extremely emotionally triggering. 
"It's a very strange thing as a founder," he said, describing the first time Proof sold its NFTs into the market as similar to putting a moped out into the market and subsequently, people selling it as a Honda Civic.
"And I'm sitting here like 'I didn't sell that, I sold a moped,' and it becomes insanely challenging to live up to that expectation and demand. For the founders that have the grit and heart, it's going to be about the intangibles over time and what they continue to build and execute slowly over time."
Living Through the "Metaverse Hangover" in a Post-Smartphone Future
Turning to some of the biggest trends over the past year that have spanned across connected fashion and music to gaming and culture, Web3 Deep Dive host Rachel Wolfson moderated a beautiful conversation with tech futurist Cathy Hackl about where emerging tech is headed. 
Hackl, who is often referred to as "the godmother of the metaverse," has spent nearly 10 years in metaverse-related industries, currently serving as Chief Metaverse Officer at Journey. 
She believes that we need to be looking beyond A.I. and how it enables productivity, and instead, really think deeper about what will replace our mobile phones and how that will impact our society. 
"I don't think the future is Ready, Player One," Hackl said, referring to our current understanding of virtual reality (VR) and the headsets we use. "It's going to be some type of wearable, not just a VR headset or glasses, but we are going to need a device that can allow us to communicate, to collaborate, and be productive to actually do work," she continued. 
Hackl also confessed that it's going to take awhile for people to want to put something on their face, especially when the current market only offers large, heavy eyewear that aren't the most fashionable, portable, and even give consumers eye strain and/or discomfort. 
"I think we underestimate how hard it is to put a supercomputer on someone's face, right? It's extremely hard from an optics perspective. I think we're going to head into that post-smartphone future at some point, and eventually get to something that will replace the mobile phone – and that's an undeniable truth."
Turning to gaming, Hackl says that the fashion industry has started to take a cue from gaming and how to incorporate trends into these virtual spaces. 
As a mother, Hackl says the biggest window into the future resides with her three kids, who she describes as Gen Alpha. "Kids are also making decisions about self-expression that impacts street culture, couture, and of course, gaming," she explained.
Taking this past year's heavy stride into the metaverse, Hackl says we are currently experiencing a "metaverse hangover" or "cooldown," where now, everyone's skeptical. 
"The reality for me is that this is all a long-term play, and that has to do with the post-smartphone future and what enables that future. If you're asking what the metaverse is, we're still defining it. It's nascent. And I think that's part of the problem, right? We don't really know what it is or if we will even call it the Metaverse in 10 years – probably not. I don't want to be the godmother of the metaverse forever, but I'm still a believer in that long-term future."  
What Makes Memes Memorable?
The market's current infatuation with meme culture has certainly sparked a new visual vernacular, helping to propel many leading NFT projects. 
At the center of that conversation was PEPE, a crypto token inspired by Matt Furie's "Pepe the Frog" meme, that brought forth an interesting panel discussion at Sunset Room: The Gallery, moderated by nft now's Matt Medved as he spoke with Canary Labs co-founder Michael Anderson and Fireblocks Senior Director for Web3 Business Development Sergio Silva. 
With around 75,000 holders spanning across several wallets (not including centralized exchanges), PEPE has surged to a $502 million USD market cap after a 2,100% rise since it was first issued last month. 
Medved, who shared his enthusiasm for having an entire panel dedicated to meme culture, started off by asking the panelists what exactly makes memes like Pepe memorable, and what is it that gives them lasting value?
"When you see a good meme, it just makes you feel warm, and they've become one of the most powerful things in this world of quick information. And I don't see how that stops. I can see this continuing as a cultural artifact," Anderson responded. 
Adding to that, Silva focused on humanity's historical, visual representation of culture:
"The visual representation of culture and visually recording history through human experience has always been there," he explained. "If you go back thousands of years, people were already sharing memes and the idea that this is an official representation of something that we all agree on and can find consensus on what it means – and then we rally around it. So visualize memes as nation states, money, and religion."
Referencing Pepe, Silva says that this meme is a "big representation of who [we] are," and that meme is one that we can derive other things from to put together as the building blocks of crypto culture.
The Power of Web3 Domain Names
The growing interest in having a Web3-powered domain name has taken internet service providers for a whirl as companies like Ethereum Name Service (ENS) and Unstoppable Domains have capitalized on a specific demand within the emerging tech space for a personalized mechanism that allows them to maintain their identity, while interacting and transacting with one another. 
Sandy Carter, Chief Operating Officer and Head of Business Development at Unstoppable Domains told Hypemoon that by creating a Web3 profile, individuals are able to finally begin experimenting and showcasing their personal brand by using their domain to send encrypted emails, logging into top Web3 games and metaverses, in addition to attending global events and fashion shows. 
Recognized as one of the Top 10 Most Powerful Women in Tech by CNN, Carter, prior to joining Unstoppable Domains, served as a VP at Amazon Web Services (AWS), as well as a General Manager at IBM. She is also fluent in eight programming languages and is the author of five books, which won the Platinum MarCom Award and the Silver Marketing Sherpa award.
"[Your domain] is a username for Web3 you can use to log in to your favorite apps, games and metaverses, send crypto without having to remember an alphanumeric crypto address, build a Web3 profile reflecting your on- and off-chain identity, and more," said Carter.
Unstoppable Domains, which holds itself out as a Web3 domain provider, announced its partnership with Binance.US, one of the largest U.S.-based crypto exchanges during Consensus that now allows users to mint their Binance.US domains on Polygon.
"The data you attach to your Web3 domain becomes portable and interoperable across your favorite platforms," Carter explained, noting that Unstoppable "has more than 800 integrations that make that portability and interoperability possible."
She told Hypemoon that she believes owning a Web3 domain, such as those offered by Unstoppable Domains, will be "as ubiquitous as owning an email" as the space continues to mature and evolve. 
"The biggest misconception is that Web3 domain names are similar to Web2 domains, and should be used primarily for websites," Carter emphasized.
She says that Web3 domains are the infrastructure that allows consumers to own their identity data. The Web3 domain provider also recently partnered with Unstoppable Women of Web3 to provide Web3 and metaverse education for six million women in Africa over the next five years. 
Ultimately, the question of how we can ensure our digital identities won't be data mined, duplicated or stolen, comes down to the ownership rights that remain in the power of its users – instead of with centralized services and third-party providers that have never provided an ownership mechanism for wallets, healthcare data, education records, KYC, and so much more.
Consensus will return to Austin next year for its 10th anniversary, running from May 29 to June 1, 2024. 
In other news, read about the first-ever NFT insider trading case rendering a guilty verdict against former OpenSea product manager.