Dynamic Art Museum Introduces STAGE ROOM Featuring Acclaimed Artist Rhymezlikedimez
Dynamic Art Museum is thrilled to announce the launch of a captivating new project, STAGE ROOM, dedicated to the world of digital art.
Dynamic Art Museum Introduces STAGE ROOM Featuring Acclaimed Artist Rhymezlikedimez
Dynamic Art Museum is thrilled to announce the launch of a captivating new project, STAGE ROOM, dedicated to the world of digital art.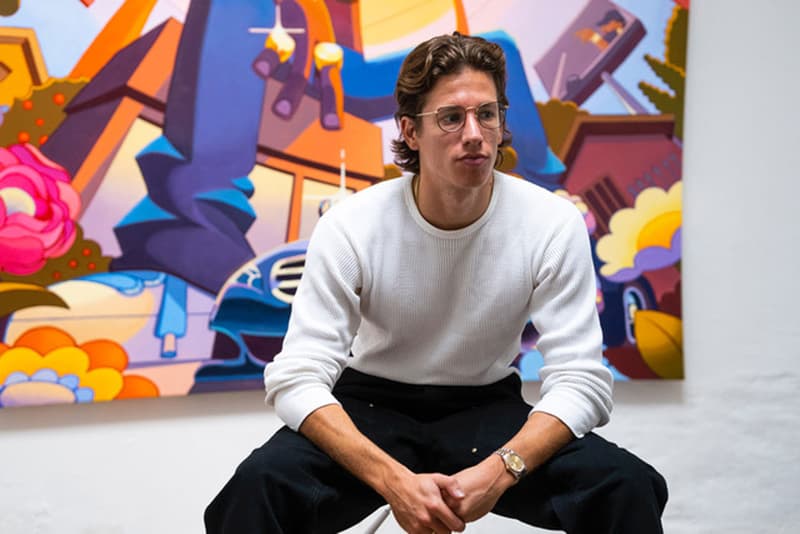 Dynamic Art Museum is thrilled to announce the launch of a captivating new project, STAGE ROOM, dedicated to the world of digital art. Located at Via delle Erbe 2/a in Milan, the museum will allocate a designated area of its exhibition venue each week to showcase renowned international artists.
From May 18 to 25, the spotlight will be on RhymezlikeDimez, a visionary artist whose work seamlessly blends the realms of music and visual art. As part of the exhibition, an exclusive video presentation by RhymezlikeDimez will delve into the artist's inspirations and creative process. The showcase will also feature two of his remarkable works: "Prolific" from 2022 and the recently unveiled "Heaven to Me" from 2023. These pieces, along with an unreleased video, promise to captivate visitors with their unique fusion of music and visual aesthetics.
Robin Velghe, known as Rhymezlikedimez, from Belgium is a  multidisciplinary artist proficient in both digital and physical mediums. Velghe's artistic journey began with a passion for drawing and an innate desire to integrate the sensory experience of music with his illustrations. Over the course of seven years, his hobby evolved into a full-fledged career, gaining global recognition as a visual creator.
Rhymezlikedimez has consistently pushed the boundaries of artistic expression across various domains, including fine art, music, fashion, and NFTs. Notable art collectors, such as Memphis Depay, have eagerly sought after his paintings and screenprints. Collaborating with designer KidSuper, Rhymezlikedimez unveiled a collection during Paris Fashion Week, solidifying his presence in the fashion industry.
cool cool cool@tylerthecreator pic.twitter.com/VBp89dCoZ6

— Rhymezlikedimez ? (@rhymezlikedimez) May 5, 2023
In the past two years, Rhymezlikedimez has expanded his physical presence through a series of groundbreaking exhibitions. "Meet Me On Cloud Nine," his first solo art exhibition, premiered at Miami Art Week in 2021. The immersive version of the exhibition was later showcased at Paris Fashion Week SS22. In 2022, he stunned audiences with his live performance, "Seeing Sounds," in New York City.
"Dynamic Art Museum's aim is to create a bridge from the Renaissance art to Crypto art, from Past to Future, running unique exhibitions. We started in 2021 organizing the First NFT exhibition in Milano, a Second one in 2022 and a Third edition in Beijing in 2023. In this new and Fourth exhibition in Milano we have created a Stage Room where artists can virtually meet art lovers. Two 4 metres screens are displaying the artist's interviews and podcasts and his latest artworks giving to the public the opportunity to have a deeper and better understanding of the artist's works. The idea of continuing to explore the world of NFTs was almost a compulsory choice, both because of our inexhaustible curiosity about this exuberant artistic movement as well as the numerous requests from our friends, visitors and collectors." Pier Giulio Lanza, Founder and Director shared with Hypemoon.
Notably, Rhymezlikedimez's artwork "Prolific" was featured in a prestigious auction held by Christie's Auction House in 2022, further establishing his influence in the art world. With over 355k Instagram followers, he has successfully cultivated a dedicated following drawn to his unique blend of visual design and music.
In a recent interview with the renowned artist Rhymezlikedimez, we gained insights into his creative process, the influence of collaborations, and his thoughts on the future of art and music. Rhymezlikedimez's passion for music is evident in his artwork, and he masterfully translates the emotions and vibes of music into visually stunning representations. He recalls being inspired by music videos during his childhood, which sparked his fascination with the fusion of visuals and music. For him, creating art while listening to music is essential, as it allows him to visualize stories and sceneries that align with the music's essence.
Rhymezlikedimez's work perfectly aligns with the concept of the "STAGE ROOM" exhibition at Dynamic Art Museum, which explores the intersection of art and music. He believes that combining the right music with the right visuals creates an extra emotional dimension and connects people on a profound level. Through his art, he aims to demonstrate that music artists and the visuals accompanying their work are producing some of today's most exceptional pieces of art.
When it comes to different mediums, Rhymezlikedimez embraces the unique powers of each. He sees paintings as a way to bring the artist's presence into people's homes, while digital art allows for the conveyance of time through movement and music. He appreciates the accessibility and borderless nature of digital art, and he aspires to follow in the footsteps of artists like Kanye West, Virgil Abloh, and Tyler The Creator, who excel in expressing themselves across various art forms.
Collaboration has played a pivotal role in Rhymezlikedimez's artistic journey. Working with renowned figures such as KidSuper has provided him with fresh perspectives and enriched his creative vision. Collaborating with Colm, for example, opened his eyes to new ways of thinking outside the confines of industry norms. Rhymezlikedimez believes that the best art emerges when different minds come together, and he is open to future collaborations that unfold organically.
"More than ever, collaboration is at the core of great art. The best art is created when different minds are put together. When working together with other creatives, I learn how they see things from their unique perspective; so with every collab I feel like I gain new insights to improve my skillset. I also learn how to give out control and realize other people now things better in their field of work. " shared Rhymez.
Having his artwork "Prolific" sold through Christie's Auction House was a significant milestone for Rhymezlikedimez. It brought him a sense of achievement and allowed him to gain recognition across different generations. His involvement in the NFT art world has also had a profound impact on his career, breaking down barriers and granting digital artists the acknowledgment they deserve.
"The art industry is very gatekept and doesnt easily accept new mediums. Being part of the early adopters of WEB3, I had the honor of joining the revolution that forced the art world to give digital artists the acknowledgment they deserve. Even though I already made a name for myself, NFT's opened some doors for me." he shared with Hypemoon.
Social media has been instrumental in Rhymezlikedimez's artistic journey, providing him with a platform to engage with his audience and build a community around his art. He strives to offer his followers the best art possible and enjoys interactive activities like giveaways and contests. However, he also recognizes the importance of maintaining a certain distance to preserve the magic and mystery of his art.
For aspiring artists seeking recognition and connections with influential figures, Rhymezlikedimez highlights the power of social media. He attributes his own success to platforms like Instagram, which allowed him to collaborate with artists he admired. Keeping up with the changes in social media is crucial, as it presents new opportunities and challenges for artists to navigate.
Looking ahead, what new frontiers do you see for your artistic practice, and what excites you most about the future of digital art, NFTs, and the merging of different creative mediums?
"I feel like we are in the midst of a tipping point concerning what we value in culture, art, marketing. I think these moments of change are the most exciting when it comes to art. I am very excited to explore new ways of expressing myself trough both physical and digital media. I can't wait to start painting again and I'm super excited to show you more of the Rhymezlikedimez world through various original ways storytelling. I'm taking you on a vibrant adventure with my character Puff as our hero. I'm announcing and sharing some of my coolest collaborative projects so far this year, and we're embarking on a new adventure with our new WEB3 project with Jeff Staple."
In other web3 news, Steve Aoki Launches IDOL III, a State-of-the-Art Music Player JukeBox for Web3